Watch Video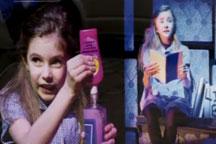 Play Video
Britain's acting world gets on its "glad rags" this Sunday for the 41st Lawrence Olivier Awards- the most prestigious award in London's West End. And this year critics are anticipating something unprecedented as four little girls prepare to dominate the proceedings. Two of them: 10 year-olds Eleanor Worthington Cox and Cleo Demitrou, have every chance of becoming the youngest people to ever win an Olivier.
Richard Bestic, London, said, "I'm here at the Cambridge Theatre where The Royal Shakespeare company's remarkable musical rendition of Roald Dahl's Matilda looks set to sweep all before it at the Olivier theatre Awards this Sunday.And the triumphs aren't simply going to be snapped up by the extraordinary young stars of the show 10 year-olds Eleanor Cox Worthington and Cleo Demetriou along with 12 year-olds Sophia Kiely and Kerry Ingram. Because, in all, Matilda has been nominated for the top award in every single category for which It's eligible."
The stage production follows closely Roald Dahl's book.
The story of a little girl … Matilda … who finds she's not just clever but has special powers.
It's the story of her classmates too… the lives of whom are made a misery in a school run by a very unkind head, Miss Trunchball – played by Bertie Carvel, nominated for his efforts as best actor in a musical.
Matilda looks set to sweep all before it at the Olivier awards – its direction; its music and the cast already hailed by the critics as one of the most exciting shows on the West End.
The story ends happily of course, as it looks like its set to do for the music.
"And for the future … Matilda's days are looking bright beyond Sunday's Olivier Awards and across the sea to America. Where a deal signed earlier this month promises yet further success Broadway. All in all … Matilda has become something an international musical master class. Richard Bestic, CCTV, London, England."
Editor:Zheng Limin |Source: CNTV.CN