Watch Video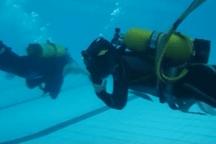 Play Video
Known as the lion city, this ancient site lies underwater in Qiandao Lake in Zhejiang province. Founded thousands of years ago, the city was flooded in the 1950s to make way for the construction of a hydro plant. Now CCTV is about to follow a team of divers on a mission to explore and uncover the city.
The lion city is about the size of 62 football fields and was once the political and economic hub of the region. Built at the foot of a mountain, the city structure defied the Chinese norm with five gates instead of four.
The ancients streets and memorial archways were well preserved before it was submerged and is widely considered of great historical value by many.
Kang Rui, a director of expendition broadcasting, CCTV says, "This is the first time that we are doing a live broadcast, we employed a host of different types of technology in the campaign, like underwater drones, underwater LED lighting and various cameras. "
What's more, the show will even feature a reporter, who be providing live broadcasts from the site. But there are many challenges.
Kang Rui says, "According to my knowledge, the record depth for an underwater live broadcast in China is 29 meters, but the average depth of the Qiandao lake is more than 30 meters, some areas may even be 40 meters. This kind of water pressure along with a low temperature of 8 degrees Celsius is a tremendous challenge for divers."
Despite the challenges, armed with sonar and other various high-tech equiptment supplied by the State Oceanic Administration, the divers are determined deliver an underwater experience of a lifetime to the audience.
Related stories
Editor:Wang Xiaomei |Source: CNTV.CN