Watch Video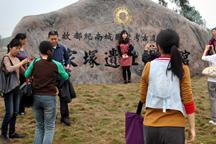 Play Video
Away from China's capital Beijing, across the country, people are celebrating the three-day May Day holiday. Some have been going out and about, enjoying the sights and smells of Mother Nature while others choose to immerse themselves in some colorful cultural activities.
This year, it's all about entertainment, or education. The Nanjing cultural festival in Jiangsu Province features the city's renowned theatres and museums or it's just as enjoyable to stroll around China's former capital, and take in the history. The festival lasts for a month and includes some 40 plays showing in theaters.
In Jiangsu, a "Vegetarian expo" has kicked off in Yixing city. It features a culinary display of meat-free morsels from Japan, Singapore, and Thailand as of course, China.
The Xiong Jiazhong tomb site museum in Hubei Province's Jingzhou city is considered the biggest and most well-persevered tomb site from the Chu state of the Eastern Zhou dynasty over 2000 years ago. It's running free admission during the three day holiday, and is expected to attract around 5000 tourists per day.
For some quieter time away from work, the Shaanxi library in Xi'an is enjoying record reader numbers, with thousands of young people coming to pass the time browsing the rows and rows of books.
"I want to find a quiet place, and I want to have a taste of culture."
In Juye County, Shandong Province, these villagers like to draw, when they're not ploughing the fields. It's proved to be a good business opportunity for several hundred budding artists.
Related stories
Editor:Zhang Dan |Source: CNTV.CN