Watch Video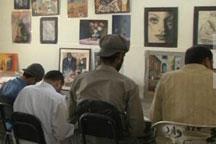 Play Video
Inmates at a Pakistani jail are taking art classes as part of a rehabilitation program to help them reintegrate into society. Not only are the paintings a source of refuge, but is also a revealing account of the prisoners' personal stories.
Prisoners of Central Jail in Karachi seek solace from their confinement by sketching from an array of paintings hanging from the wall. 40 inmates are enrolled in the programme. Some are here for murder and terrorism related offences and might never see the free world again.
According to jail authorities, the inspiration behind the initiative is to improve the psychological health of the inmates, and so far, it seems to be working, there has been a reduction in repeat offences by former inmates that have done the programme.
In his painting, Aslam tries to depict how the young and innocent are recruited by the Taliban to fight for them.
Aslam said, "No one becomes a criminal for fun, it's often his/her surroundings, the circumstances of existence. Here I am trying to show an innocent child, doesn't even have slippers on his feet, he has been pressured so much that he has taken up arms instead of picking up his pen and his books. He couldn't afford schooling, and to live, he needed to do something and he took this path."
Each painting tells a different story, many tinged with sadness and perhaps even regret for crimes committed. The program's art teacher in fact says he senses this in most of the prisoners in the programme.
Arif Ali, the art teacher, said, "When they see their work evolving, they sort of reflect on their own life. That if they had been like if they had found this thing outside, they maybe would have been leading a different life."
The art classes have totally transformed the life of one former member of the programme who is now on the outside. Since leaving prison, Ziaullah Niazi has been working as a freelance artist and now even has his own studio.
Ziaullah Niazi , artist, former prisoner, said, "When I was released, I managed to sell many of my paintings and saw that this skill could be my next profession. I could see the wide-scope of this field. So I decided to start working as a freelance artist and started selling and exhibiting my work in various art galleries - or if the jail authorities have an exhibition I sometimes also participates in that."
Ziaullah has also recently been awarded a kiosk at Karachi airport to exhibit and sell his paintings.
Editor:Bai Yang |Source: CNTV.CN