Watch Video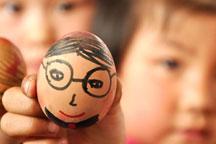 Play Video
As summer arrives, more and more Chinese are reviving folk traditions to mark the beginning of the season. And one tradition is weighing people, as people of various ages step on the scales hoping to bring blessings and good fortune for the remainder of the year.
Here at a child care center in Shanghai, many parents are putting their babies on scales to weigh in on the blessings.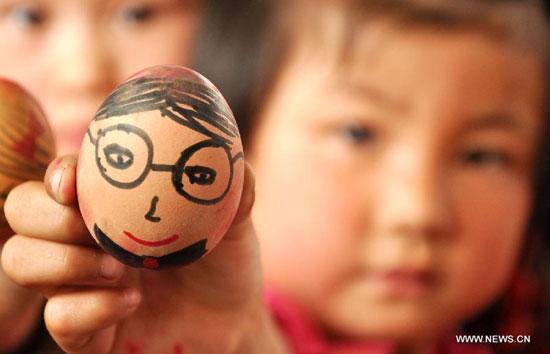 A girl shows her painted egg during an activity featuring local folk custom at
a kindergarten in Zibo, east China's Shandong Province, May 5, 2012. The
activity was held Saturday by the kindergarten to celebrate "Li Xia", the
beginning of the summer in Chinese Lunar Calendar. (Xinhua/Zhao Dongshan)
A visitor said, "We are weighing our boy according to custom, we hope he will grow up healthy."
Meanwhile, in a resort in Shandong province, in east China, people have taken the custom to another level. They use a specially designed scale and invite a host dressed in traditional costume to enhance the experience.
The host said, "We say our blessings as we weigh them, for elderly people we wish them longevity and for youngsters we wish them success in the future."
The host deliberately makes the subject heavier in the belief that it could bring more blessings and the scale itself is not very accurate. Regardless, people are here for the warmth and good fortune instead of cold, hard statistics.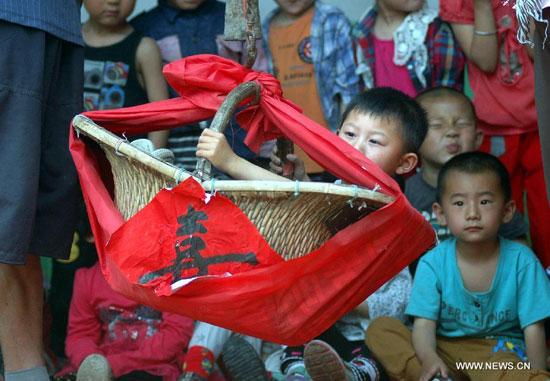 A boy is weighed during an activity featuring local folk custom at a kindergarten
in Liaocheng, east China's Shandong Province, May 5, 2012. The activity was held
Saturday by the kindergarten to celebrate "Li Xia", the beginning of the summer
in Chinese Lunar Calendar. (Xinhua/Zhang Zhenxiang)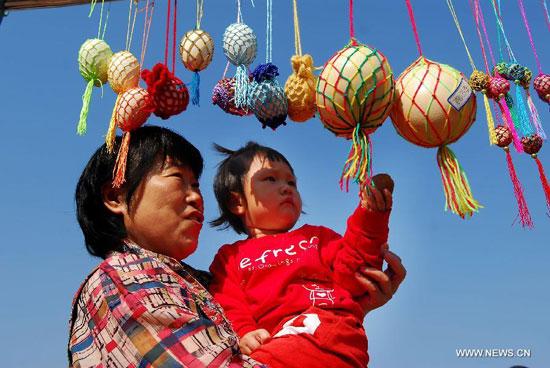 A kid plays egg bump during an activity featuring local folk custom in Ningbo City,
east China's Zhejiang Province, May 5, 2012. The activity was held Saturday to
celebrate "Li Xia", the beginning of the summer in Chinese Lunar Calendar.
(Xinhua/Hu Xuejun)
Editor:Bai Yang |Source: CNTV.CN