Watch Video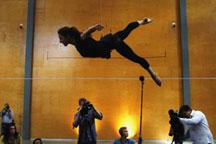 Play Video
With the London Olympics just around the corner, it's not only athletes that are busy preparing. Dozens of Australian artists and performers are gearing up to be part of the act.
Rhiannon Spratling was formerly a ballet dancer and is now one of the leading aerial dancers in the production "Legs on the Wall". She says this latest performance is a long way from her humble past in ballet.
Rhiannon Spratling, dancer, said, "It's way beyond what I thought I'd be capable of, I guess, dance is a very grounded thing. There's a lot of lifts and jumps but dancing suspended meters above the ground on a ship with thousands of people is not what I thought when I started ballet all those years ago."
The show is part of the London Cultural Olympiad - a series of projects, performances and workshops held throughout the United Kingdom.
The Australian troupe will be part of more than two hundred thousand performers executing their artistry with an ocean liner backdrop.
The inspiration was from the idea that the Olympics is a journey that reaches a city every 4 years, and the Rhiannon and her colleagues hope that the London Games will be a memorable destination.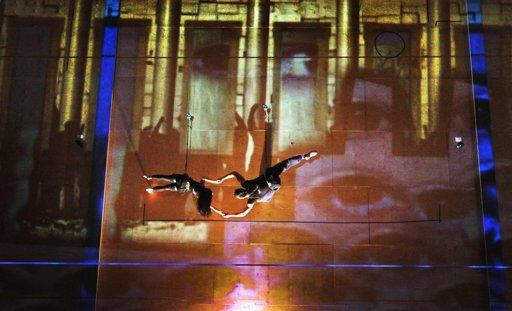 (File photo) Performers from the group Legs On The Wall dance while suspended
from cables in front of a wall projection during a media call for their
production of "The Voyage" in Sydney May 1, 2012.
Editor:Wang Chuhan |Source: CNTV.CN