Watch Video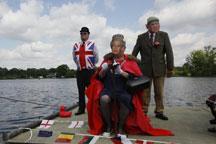 Play Video
Relaxed on the day before the big Jubilee celebrations - the UK's Queen Elizabeth the second and Prince Philip appeared to be taking high tea on a raft on a lake in Western Germany, Saturday.
Arriving in an open-topped car with Union Jack insignias everywhere, the UK's Queen made a royal entrance, stepping onto a red carpet and being curtsied by her devoted subjects. Well, not the royals themselves, but look-alike Bob Clarke, who takes his royal duties very seriously.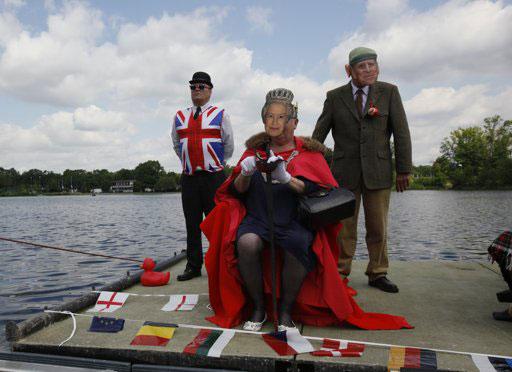 Bob Clark (C) a 64-year-old former British Army soldier stationed in Germany,
wears a mask of Britain's Queen Elizabeth II while his German friend Juergen
Hordt (R) wears a mask of Britain's Prince Philip during a so-called "Queen's
Diamond Jubilee Rehearsal Tour" on a float on lake Berta in
Duisburg June 2, 2012.
After being entertained by a harp player, the "Queen" took to having high tea on a raft at the lake. The Queen, or rather her look-alike Bob Clarke, commented on speculation over whether Kate would soon be expecting her first baby.
Bob Clarke, Queen Look-alike, said, "Oooooo, nononono. Nonononono, you are not getting anything out of me like that," the Queen look-alike Clarke said. "Philip is the one for private tales, not me."
And in royal tradition, the "Queen" smiled graciously.
Related stories
Editor:Bai Yang |Source: CNTV.CN