Watch Video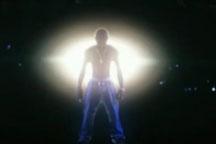 Play Video
The Tupac Shakur hologram that stunned audiences at the Coachella Valley Music and Arts Festival has since made a lasting impression around the world, making many fans want more. Producers of the hologram open up about the creation process.
This year's Coachella was especially emotional, Dr. Dre and Snoop Dogg managed to resurrect one of the most revered rappers of all time: Tupac Shakur.
The rapper came back to life as an onstage hologram, singing hit songs, and causing nearly 90,000 audience members to drop their jaws. The life-sized figure of Shakur, who died at age 25 in a 1996 shooting, performed two songs with Snoop Dogg, before dissipating into thin air, leaving the audience in awe, and somewhat unsettled.
The image itself was developed by Digital Domain, a company co-founded by James Cameron, and which was the powerhouse behind aging Brad Pitt in "The Curious Case of Benjamin Button" and "Tron: Legacy."
Ed Ulbrich, Chief Creative Officer, Digital Domain, said, "The first time you do it, it's really hard, really tedious, takes a lot of people and it's expensive. It gets better, faster, and cheaper over time. But I still don't want to discount how incredibly difficult it is to create a digital human being. That's still the hardest thing that can be done."
The Tupac hologram is a full CGI image, projected using technology developed by AV Concepts. Getting Tupac's likeness correct was the primary concern of the creative team.
Dylan Brown, producer, said, "We knew we were working with the best in the business but I think everybody was just motivated to make this thing work because the last thing we wanted to do was offend his family, the people who knew him, and obviously the fans."
The creation was not a simple process. Most digital renderings of humans are done with the real-life subject in the studio to use as a model. With Tupac, animators had only images, video and personal recollections.
Philip Atwell, producer, said, "For a long time we didn't show anybody what we were doing because the process was really one of those things that when the last touch was put on, it was like, okay, then we're there."
The success of Tupac's appearance got the entertainment world buzzing about who the next performer to come back to life will be.
Related stories
Editor:Bai Yang |Source: CNTV.CN