Watch Video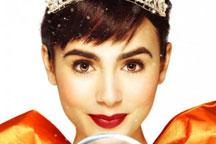 Play Video
Western blockbusters have taken the lead at the Chinese box office in recent days. Compared with their strong performance, Chinese movies appear to be much weaker.
Avengers, Mirror Mirror, Band of Misfits, and Hugo, all of these western blockbusters hit Chinese screens simultaneously, and led to a string of box office disappointments for Chinese movies.
Wu Helu, Deputy General Manager, Shanghai United Circuit, said, "Among the twelve films shown in recent days, the top five are from the US, and the other seven are Chinese movies."
Avengers film poster.
These top five American movies have taken nearly 90 percent of the total sales volume. Most Chinese audiences say that they prefer to watch western blockbusters instead of home-made films.
One Chinese audience member said, "Of course I choose western movies. It's enjoyable to watch them in the cinema."
The amount of Chinese movies produced every year has been growing fast. 558 Chinese movies were produced last year, but very few of them won praise from audiences. Analysts say that Chinese movie makers should pay more attention to the quality, instead of quantity of films. Meeting the demands of the market is the best way to save Chinese movies.
Mirror Mirror film poster.
Band of Misfits film poster.
Editor:Bai Yang |Source: CNTV.CN