Watch Video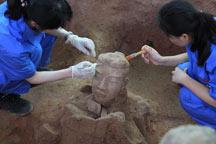 Play Video
The world famous Terracotta Warriors are giving up some more of their secrets. The latest excavation at the Qin Shihuang mausoleum in Xi'an, capital of northwest China's Shaanxi province, has been underway since 2009. Scientists have recently released the latest findings, that have been buried under the sand for thousands of years. They include some startling discoveries, that are helping experts get a better picture of life, 2,200 years ago.
This is the third excavation of the Qin Shihuang mausoleum's "number one pit".
Archaeologists have so far found 310 items. They include fragments of horse carriages, weapons, and tools. There's even some painted Terracotta.
Some of the finds have amazed the team. For the first time, defensive armor has been uncovered - including this shield, made of Rattan.
Even though it's fairly rotten, its shape and colourful design remain intact.
Archaeologists have also uncovered evidence of fire. The remains of burnt wood and hemp strings show that the figures were attacked not long after they were placed around the tomb.
Who was the attacker? Many believe that person to be Xiang Yu -- a prominent military leader who led battles against the Qin dynasty.
Yuan Zhongyi, former president of Qin Shihuang mausoleum says, " During the transition from the Qin to the Western Han Dynasty, society was rather unstable. It may be Xiangyu who burnt the place. But this is just speculation, we need further proof."
The latest excavation is also turning up powerful evidence that the terracotta warrior site was plundered at some point in history. A hole has been found inside the "number one pit", which appears to have been made by thieves.
The current excavation is being carried out in much more detail and at a slower pace than the previous two. It's hoped that modern techniques and knowledge will help to preserve these invaluable findings for generations to come.
Related stories
Editor:Wang Xiaomei |Source: CNTV.CN