Watch Video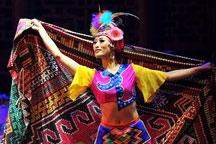 Play Video
In the culturally-diverse Hunan Province, where music and dance is an essential part of local ethnic people's daily lives. Hundreds of Hunan artists from different ethnic backgrounds have come together to present "Colorful Hunan" at the ongoing Ethnic Minority Art Festival.
Rooted in the fine traditions of ethnic minorities and folklore cultures, singers and dancers from the Tujia, Miao, Dong, Yao and Bai ethnic groups have made unremitting efforts to bring their musical traditions to the grand stage.
"Colorful Hunan" is the result. A dance musical mixing unique local musical instruments with symphonic arrangements. Several national intangible heritage items are also featured in the musical, including the Tujia's traditional percussion performance.
The five chapters depict various sides of Hunan people's daily lives, while revisiting local history in a nostalgic way.
Hu Mingzhu, director of "Colorful Hunan" says, "The theme that holds all the chapters together is the harmonious relationship among different peoples. Each ethnic minority has its own rituals and traditions, but when it comes to settling in the same region, they are like intimate brothers and sisters."
The success of this stage production would not have happened if local culture wasn't kept alive. In Xiangxi Tujia and Miao Autonomous Prefecture, primary school students are practising Miao drum dances as part of their physical education.
Xiang Bangsong, headmaster of Aizhai primary school in Xiangxi says, "We have more than 7-hundred pupils enrolled in our school and most of them are Miao kids. So the Miao drum dance is necessary for them to learn about their own ethnic traditions."
Although the school is facing financial difficulties at the moment, the headmaster insists on building practice facilities for the pupils to practise these artforms. Soon, the children will get new stage costumes, and hopefully perform on bigger stages someday in the future.
Related stories
Editor:Wang Xiaomei |Source: CNTV.CN