Watch Video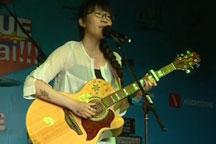 Play Video
Musicians from around the world have descended in the city to celebrate the summer season with a grand music event. Entitled "The Summer Solstice Music Festival," the bash pulls in music enthusiasts from near and afar.
Rock, jazz and folk musicians are attracting hundreds of fans to the downtown venue. Dutch performer Jay Soul and his Chinese partner Cha Cha demonstrated their soul music. And Soul says events like this help make obscure music better known.
Jay Soul, a DJ of "AM444" band says, "For underground music, for music not main stream, it is still pretty hard. If you do a little bit different, a lot of people are still not so interested, or they don't know about it. But things are changing and developing like everything."
Rap and electronic music performers from Shanghai, France and South Korea are also exciting the fans. They said they can learn about more kinds of music through these events in Shanghai.
Lu Ying, a spectator says, "I was not interested in electronic music before, and I didn't know about it. But once I heard it at a concert like this, I started to like it."
The Fete de la Musique was launched in Paris 20 years ago. Every year on June 21st, French people observe the first day of summer with music. The two-day event in Shanghai will end tomorrow with a series of concerts across the city, including baroque music at the James Cohan Gallery in Xuhui District and a variety of styles performed outdoors at Fountain Square at the Cool Docks in Huangpu District.
Editor:Wang Xiaomei |Source: CNTV.CN