Watch Video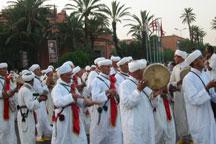 Play Video
Morocco's National Festival of Popular Arts has gotten off to a colourful start in Marrakesh. Horse-drawn carriages moved through the streets of the ancient city, leading a parade with a caravan theme.
Bands and dancers from all over Morocco took part in the three-kilometre-long parade which ended at Jamaa El Fna square and market. The area is known not only for its food stalls but also for its traditional storytellers and snake charmers.
Six hundred artists in 18 Moroccan musical and dance bands are taking part in the 5 day long festival. Ali Chaiki, leader of Ahwach Tissant troupe from Morocco's southern Tata region, said that attending the festival is particularly exciting because it brings together such a large variety of artists.
Ali Chaiki says, "Even if we meet from time to time, we don't always meet in big gatherings like this one. This is what makes this festival important for us because it brings together all the cultures of Morocco."
The biggest challenge for festival organisers is trying preserve the original artistic guidelines, while still appealling to younger crowds.
Mohsmmrf Nait Ali, the festival director says, "Today, we try to work on preserving this heritage and this could be done only if we involve young people. As you saw in the parade, young people were there in numbers. We also managed to have a number of cultural and artistic residences. You saw the results."
Established in 1960, the festival has become the prime showcase for regional Moroccan music, dancing and local costumes.
Five days of stage performances, antique stalls, and music workshops are available to the general public and visitors in Marrakesh through Sunday.
Editor:Wang Xiaomei |Source: CNTV.CN