Watch Video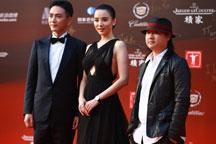 Play Video
First held in 1993, the Shanghai International Film Festival was held biennially until 2001. It is China's only A-category film festival, and one of the biggest in East Asia.
In the past decades SIFF has constantly adapted with innovative works in competitions, attracting film-makers and industry experts to attend high-end forums. The festival has also taken in modern ideas, including a competition category for online short videos.
Now the annual event is seeing film productions from more than 1-hundred countries and regions taking part.
The Golden Goblet Award is without a doubt the top honor of the event. Previous Chairmen include Danny Boyle, John Woo and Barry Levinson, and French director Jean-Jacques Annaud leads this year's jury panel.
Jackie Chan, an actor says, "There are many guests from other countries here in Shanghai, which has proved our effort all these years. Shanghai should look up to successful festivals such as Cannes, and I believe we'll get better each year."
And SIFF is always embracing new trends in the movie scene. "Mobile SIFF" is a unit for "micro-movies", a term that refers to short video productions with attractive plots and low budgets, and can be viewed almost anywhere on video-sharing websites and smartphones.
The second year of "Mobile SIFF" has seen thousands of talented film makers submit their low-budget short films, even including Academy Award nominees.
This year's SIFF has also held a successful panorama section, screening acclaimed works produced in recent years under different programmes, including the premiere of the first batch of digitally restored Chinese black-and-white movies. The revival of old-time classics has brought back the nostalgic memories of a generation.
SIFF established a "Pitch and Catch" trading platform for both Chinese films and co-productions, called the "SIFF Project". The high-end forum is another major project. This year the series of seminars focused on topics including: how to promote Chinese screen plays internationally, the competition between domestic productions and Hollywood imports, and why actors are now choosing to invest in independent projects.
Manfred Wong, a film producer says, "Actors shouldn't place all their bets on investing and producing a film, and wishing to make a big profit. That's not what investors should do. I'm not against this trend, but I think they should focus on the film alone, no matter what their roles are."
For industry insiders, this is also an occasion to share thoughts on serious issues, such as the consequence of widening China's film quota, the censorship policy, and the weakness of Chinese culture in the world movie scene.
Feng Xiaogang, a film director says, "When Hollywood tries to do a story, they never plan to make it for Chinese."
In the meantime, the Shanghai International Film Festival has always been praised and benefited from a good interaction between organizers and cinema goers. Next year, the Film Festival will hold its 20th anniversary, where there'll be a bigger and better blueprint in the making. Building a solid platform for film-makers, investors, critics and most importantly, movie fans, the film festival continues to make contributions to China and Asia's movie scene.
Editor:Wang Xiaomei |Source: CNTV.CN