Watch Video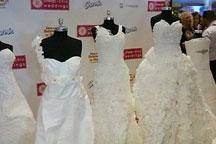 Play Video
On Wednesday, gorgeous gowns wowed judges in New York. And here's the twist, in a toilet paper dress contest.
Now in its eighth year, the contest was flooded with over 7-hundred entries. All the dresses use nothing more than toilet paper, tape, glue, needle and thread. Designers got creative showcasing the versatility of the material. Some gowns even finished with matching headpieces and clutch purses.
Susan Brennan from Orchard Lake Michigan was crowned winner, taking home a prize of 2-thousand and 12 dollars with her "Bohemian Cupcake". The dress was made out of 10 rolls of jumbo toilet paper and sown-up in just a week. The models said the gowns were not only easy on the eye but also on the body.
Competitors were challenged to build a toilet paper wedding dress using only
toilet paper, glue, needle, and thread.
Michigan native Susan Brennan poses with her
Charmin dress after being named the winner
of the Eighth Annual Cheap Chic Weddings
Toilet Paper Wedding Dress Contest at
Ripley's Believe It or Not! Times Square
Odditorium on Wednesday, June 27, 2012.
2010 Toilet Paper Wedding Dress Contest Winner Galit Zeierman.
Editor:Bai Yang |Source: CNTV.CN