Watch Video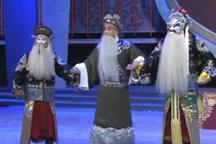 Play Video
The 7th National Youth Peking Opera Contest is in full swing. New talent is injecting fresh energy into the classic art form. You can see full live coverage on CCTV's Drama Channel. But first, let' s get a glimpse of the action.
After intense competition, contestants from all over China gathered at the semi-finals of the event. They now face an even greater challenge as they'll be judged by the panelists on the spot.
24 year old Cui Weijie is one of the youngest contestants, credited by his mentor as one of his most diligent students.
Cui said, "This contest is a great opportunity for me to show what I've learned from my teachers. I am excited just to be able to take part, no matter what the result, I'm happy to have come this far."
Zhao Hua is one of the most experienced contestants, like Cui Weijie he plays the role of Laosheng. The role is of a dignified older character with a gentle and demure voice. Zhao has a unique perspective on the contest.
Zhao said, "I see myself now competing with myself 4 years ago, when I last entered the contest. I've gone through intensive training since then and I want to measure my progress by this event."
More and more people view the contest in the same way, as its popularity rises and an increasing number of contestants take part each year.
Contest director Qiao Hao said, "We're seeing a wider range of contestants taking up the various Peking Opera roles in our competition this year."
Contestant Li Yu-Hsuan said, "I come from Taiwan. We don't have Peking Opera contests on a grand-scale like this, so I'm amazed to see so many people here, I hope to learn from them and demonstrate my own talent."
With the contests' popularity extending well beyond the Chinese mainland, the event could be a key means to sustaining and developing the ancient art of Peking Opera.
Related stories
Editor:Zhang Rui |Source: CNTV.CN