Watch Video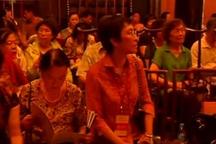 Play Video
Or maybe they can consider developing Peking Opera by engaging more fans as with Kunqu opera. Listed as a world intangible heritage, Kunqu opera is kept alive through the performances of professional art troupes, and by its fans. As part of Suzhou's ongoing Kunqu opera festival, a gathering of fans explains to us the deep roots of the artform.
Hundreds of fans from around the country gathered at Suzhou's Kunqu Opera Museum to indulge their shared passion. They're from over 30 Kunqu fan clubs across China. Amateur singers took to the stage to perform popular experts of their favourite operas.
In 2001, Kunqu opera was added to UNESCO's 'world intangible heritage' list. It gave a great boost to the status of the opera and its popularity has been on the rise. Fans say they're drawn by the elegance of Kunqu's lyrics and song.
This year the event took place inside a museum due to the soaring high temperature outdoors.
Kunqu opera fan said, "This is a reunion for Kunqu opera lovers from around the country."
Kunqu opera fan said, "Kunqu is exquisite. It represents the highest standard of ancient Chinese opera."
Originally held at Suzhou's Tiger Hill Garden, the annual gathering of Kunqu opera lovers is a 400 year old tradition. It started in the late Ming Dynasty when Kunqu was at the height of its popularity. Every mid autumn day, huge numbers of fans gathered at the garden to sing the Kunqu pieces together. The gathering stopped last century when the tradition hit its lowest ebb. It started again in 2000, around the time when Kunqu opera received UNESCO recognition.
Reporter: "The return of the annual gathering of Kunqu opera lovers demonstrates the enduring charm of the art form, and people's passion for it, which guarantees the tradition is kept alive."
Editor:Zhang Rui |Source: CNTV.CN