Watch Video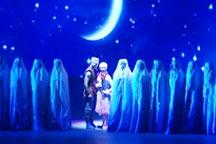 Play Video
Artists from Northwest China's Ningxia Hui Autonomous Region staged their dance drama "Hua'er" on Monday. It was a great opportunity for a wider audience to sample this unique art form of China's northwestern regions.
Performers from Ningxia Hui Autonomous Region have brought a taste of their rich culture to Beijing for the big ethnic art festival. "Hua'er" combines colourful costumes and exotic dances to create a vibrant atmosphere.
The dance drama tells a romantic love story about a Hui songstress and a shepherd. The vivid characterisation of the key characters... even the sheep... was big hit with the audience.
Energetic and elegant, buoyant yet graceful... Each move dazzled the crowd.
While the moves are in keeping with the traditional dance, the performers brought bold innovations to the production. A hint of modern dance served to spice-up the classic routines.
Before being staged here at the Ethnic Minority Arts Festival, this dance drama toured a number of Arab countries. It's also been recognized in China, winning the gold award at the Ethnic Minority Drama Competition in 2010.
Related stories
Editor:Wang Xiaomei |Source: CNTV.CN