Watch Video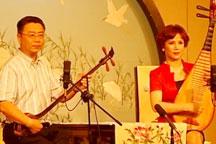 Play Video
Coinciding with the Kunqu opera festival, Suzhou is hosting another art event, the Pingtan Art Festival. Suzhou is the birthplace of Pingtan, a traditional form of storytelling that has been popular in East China for centuries.
One plays the San Xian, another plays the Chinese lute, the traditional stories told in the Suzhou dialect have dominated the city's stage for hundreds of years.
Telling a story using both words and song, Pingtan is still loved by locals after all these years for it's absorbing stories and pleasing melodies.
28 shows are taking to the stage for the Pingtan Art Festival. The troupes come from all over the Yangtze River Delta, which also includes Shanghai, Jiangsu and Zhejiang provinces. This is the region where the art form is at it's most popularity.
The vintage-style Guangyu Pingtan Theater hosts half of the festival's shows. It's the headquarters of the Suzhou Pingtan Art Troupe, and is also one of the best places to catch an authentic Pingtan show.
The theater dates back more than 200 years. It was commissioned by the Qing dynasty emperor Qianlong, who was so fascinated by Pingtan that he awarded performer Wang Zhou Shi the money he needed to set up the theater.
Sheng Xiaoyun, director of Suzhou Pingtan Art Troupe, said, "This picture depicts the prosperous scene of a Pingtan theater during Qing dynasty. This table is called 'Table for the Number One Scholars'. The emperor Qianlong sat in the back row, and no one dared to seat in front of him. But the emperor then said all 'Number One Scholars' go to the front table. Later this table became an object of interest that attracted audiences to the theater."
Pingtan normally tells historical stories or ancient legends. But more recent productions also depict modern people's everyday lives.
Wang Zhixiong, a Pingtan performer, said, "The excerpt I performed just now was general Zhang Xueliang asking Chiang Kai-shek to defend against the Japanese' invasion. Pingtan is a treasure of Suzhou, it's an art form favored by locals very much."
As a local art form very dear to Suzhou people, Pingtan is something of a calling card for the city, and a tourist attraction in itself. Apart from theaters, visitors can find it being performed in gardens and public places...it really is a living art form.
Song Yaotian, from Suzhou, said, "Pingtan is still very popular among locals. It brings back traditional forms of entertainment stretching back centuries. And a visit to Suzhou wouldn't be complete without taking in a show.
Editor:Wang Xiaomei |Source: CNTV.CN