Watch Video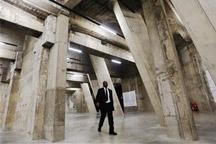 Play Video
London's famous art gallery, The Tate Modern, has come up with something brand new to share with the public. It has underground oil tanks newly transformed to a cultural space, which is dedicated to exhibiting live art.
London's Tate Modern gallery has unveiled its first dedicated space to live art and installations. It's called 'The Tanks', and it's part of plans to explore new areas of visual culture like video, photography and performance art.
Tate Modern director Chris Dercon, believes the unusual shape of the tanks will challenge artists to adapt and create new work.
Chris Dercon, director of Tate Modern, said, "This is not a museum, this is not a gallery, this not a theatre. This is something different and that means I have to do something different as well."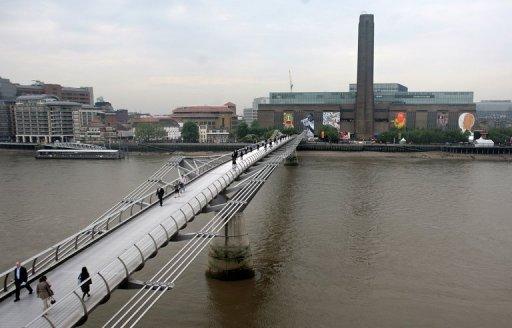 Works of art are pictured behind the Millennium Bridge on the river facade of
the Tate Modern in London.
Among the artists on the show this summer will be choreographer Anne Teresa De Keersmaeker who adapted her widely acclaimed 1982 performance, Fase: 'Four Movements' for the opening. The Tanks also feature established visual artists Suzanne Lacy and Lis Rhodes to help viewers understand the history behind live art and performance.
Catherine Wood, curator of Contemporary Art, said, "I really hope that people get the sense that art is a living thing that's changing, that you can experience in the moment, you know, I think lots of press about art focuses on auction prices and the object, and how much does an art work cost? This is really about being there, experiencing something extraordinary and new and that, that's as much as artists are interested in as making something that lasts forever on a wall."
The exhibition, which runs until October 28th, is part of the London 2012 Festival. It brings together an international program of performance, film, talks and live events to coincide with the summer Olympic Games in London.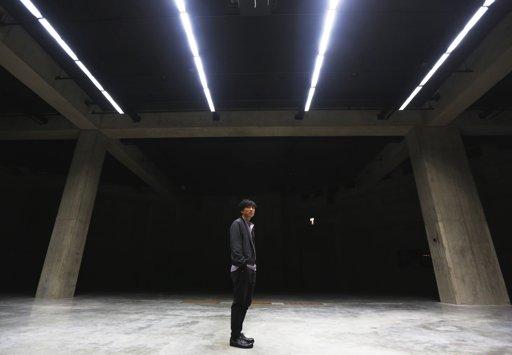 South Korean-born artist Sung Hwan Kim poses at the official opening of The Tanks,
new galleries within the Tate Modern art gallery in London July 16, 2012.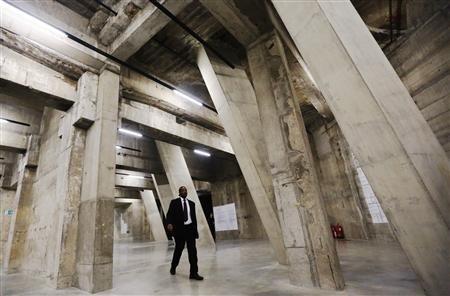 A worker walks through The Tanks, new galleries within the Tate Modern
art gallery in London July 16, 2012.
Editor:Wang Chuhan |Source: CNTV.CN