Watch Video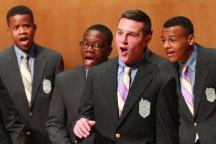 Play Video
The Young People's Chorus of New York is taking part in the World Choral Summit here in Beijing. The group has wrapped up its visit to China, with a full scale concert in the capital. Their artistic vocal talents thrilled the packed auditorium.
Music is a universal language. This group of teenagers from the US, aged between 14 and 19, has brought a variety of international, traditional and spiritual songs with them, on their trip to China.
The first half of their ninety minute show consisted of traditional songs in a variety of languages, ranging from Spanish, to Portuguese to Zulu. Part two was full of American songs, such as Billy Strayhorn's 'Take the A-Train' and Simon and Garfunkel's 'Bridge Over Troubled Water.' The concert left a big impression on many in the audience.
An audience member, said, "Their harmony and their artistic talents are especially brilliant. For those of us in China who are part of a choir or study music as a hobby, it doesn't matter if you're middle aged, old or young, they are a good example for us to learn from."
The show by the Young People's Chorus of New York prompted two encores. And it left a positive feeling on the choir members as well.
Member of New York Young People's Chorus said, "I love being a part of this chorus, gives me such great opportunities, and this is what I love to do. And I love being here, seeing different faces, making everyone happy and music is such a universal language and you can do it anywhere. It's just a great feeling, I'm truly honored."
The choir's members come from a variety of economic, cultural and ethnic backgrounds. They came to Beijing to represent the US at the World Choral Summit, hoping to promote American choral music to a new Asian audience.
Related stories
Editor:Wang Chuhan |Source: CNTV.CN