Watch Video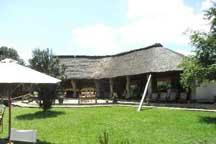 Play Video
African wildlife has long fascinated Chinese tourists, not least that of the Maasai Mara National Reserve in Kenya. But very few Chinese have had the opportunity to have an experienced tour guide that can converse in their language.
The Maasai Mara National Reserve is a large game reserve in south-western Kenya. It's famous for its exceptional population of big cats. But there's a tour guide who is also gaining fame here.
Ou Dahua spent 6 years in China learning Chinese, and he has been a tour guide for 10 years. Chinese tourists always seem to be impressed.
A tourist said, "He's just great, my friends teased me saying 'his Chinese is better than yours' "
With Ou as their guide, visitors experience more than sight-seeing, they also get an insider's view.
Ou Dahua said, "See those cheetahs, they are siblings, both of them are good hunters and even more formidable when they work together. "
Unlike the cheetahs, Ou usually works alone , mainly because Kenya lacks tour guides with a level of Chinese fluency like his. This has made his work very demanding.
Ou Dahua said, "During the boom season, sometimes I only get 1 or 2 days off in 3 months."
With the annual wildebeest migration approaching, OU is about to face more demanding schedules, so that visitors can enjoy the natural spectacle to its fullest.
Related stories
Editor:Wang Xiaomei |Source: CNTV.CN