Watch Video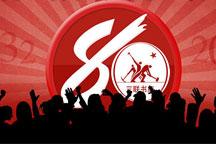 Play Video
Sanlian Taofen Bookstore is celebrating its 80th anniversary, marking it with a conference at the Great Hall of The People Thursday. And just a week ago it opened a brand new library in honor of the bookstore's founder, the late journalist and publisher Zou Taofen. Now we'll step into this bookstore, see how it established its reputation and discover what is at the core value of a successful bookstore.
Mu Fangzhou, Beijing, said, "At a time when online stores and e-books are grabbing an increasing share of the book market, Sanlian Bookstore is celebrating its 80th anniversary. But what's the secret behind the success of this bookstore, being able to survive all the twists and turns over 8 decades? Armed with that question, let's take a look back in time. "
To run a newspaper that speaks for the public and loved by the public. To run a free newspaper without inspections."
This was the goal of Mr. Zou Taofen, the late journalist and publisher who "took a firm stand of and for the public".
In 1932, he was the editor-in-chief of "Lifeweek" and under his management the newspaper's circulation soared from 2,000 copies to 155,000. A remarkable number in a time when only 30 percent of Chinese people knew how to read. "Lifeweek" didn't commit itself to educate, but rather, to inform and enlighten.
It was a dangerous mission in an age of tyranny. Publishing houses kept being closed down and writers being arrested, including Mr Zou himself. Thus came the idea of establishing a bookstore that could sell books under any names of publishing houses.
July, 1932, Shanghai. The bookstore opened and carried on the spirit.
Against the backdrop of war, the bookstore spread all over the country. And a long list of good books both from home and abroad were published by different branches. The bookstore turned itself into a spiritual battlefield against despair and ignorance.
Fan Xi'an, Manager, Sanlian Bookstore, said, "Sanlian published over 2,000 books, 50 magazines and opened over 100 branches all over China. It was a life-risking job at that time."
Around the 1980s when changes were slowing starting to emerge, the bookstore published "Reading", in which the catch phrase "No Borders for Reading" caused a storm of emancipation.
This July, a library named after Mr Zou Taofen opened to the public, housing 25,000 books, 20 percent of which are previous donations of books written before the 1950s. It is a communication platform for writers, scholars and readers.
Fan Xi'an said, "This is a feature library and we give priority to welcome scholars who study modern and contemporary history of publishing. In the future, it will gradually turn into a comprehensive library."
Today, Sanlian Bookstore has been hailed as a cultural landmark in the capital of China. In 2009, the bookstore converted its second floor into a coffee bar, in order to provide a better reading environment and also to tackle the challenge posed by rising on-line book sellers.
In a time when the Internet is changing the way we read, and "saving tangible bookstore" has become a public issue, Sanlian reminds us of the core value of a successful bookstore:
Mu Fangzhou, Beijing, said, "Great books. Great books that contain great thoughts and the courage to inform the public and enlighten. A nice environment is necessary. But great books are always the life line for a surviving bookstore."
Related stories
Editor:Yang Jie |Source: CCTV.com