Watch Video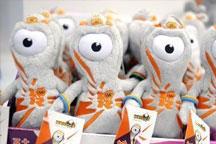 Play Video
We're just a day away from the start of the London Olympics.Missed out on tickets for the games? Worry not, London will still guarantee you an eye-opening and heart-warming visit. In the London sights from 400 feet up while wining and dining, and then drop by at Britain's biggest Olympic souvenir shop for some can't-put-down, limited-edition mugs, teapots and tiepins.
Completed in 1963, Centre Point in London's New Oxford Street was one of the city's first skyscrapers. The top three floors of the 34-floor building are now taken up by the Paramount Bar, restaurant and viewing gallery.
Inside guests are treated to 360 degree views of the capital that impress even on the greyest of days. The regular rain and clouds this summer just add to the experience of a misty London.
Pierre Condou, Owner of Paramount Bar & Restaurant, said, "You can have the east,west scenario of looking both towards the city and the western side of town. I think that all views are interesting, you can always see something new, be it some architecture or be it the weather, or being the light and shade playing as well as sunset and dawn - dawn sometimes, but not that often for me - but in the summer months of course you can see dawn if we have a late night in here."
The restaurant is holding a series of corporate events and private parties over the Olympic period, and will be also screening the games for on the day diners and drinkers.
Pierre Condou said, "We're very excited about the Olympics, they are over there - in this particular instance being completely obscured by rain, but nevertheless you can see them, you can see the stadium and you will of course be able to see all the opening ceremony fireworks as well as those."
Wenlock and Mandeville sit side by side with Olympic icons from ancient times. This is the UK's largest Olympic souvenirs store. Local department store John Lewis is providing a home for the shops by giving them prime floor space.
The products have been deliberately designed to appeal to children and adults, from big spenders to those hoping for a small keepsake which might one day become a valuable memento. It's hoping they will raise at least 80,000,000 Pounds to support the billions spent on the games.
Ben Rogers, 2012 Project Leader, said, "Our running business is up about 10 to 15% over the last two months, so a significant increase in what's a challenging market out there. Similarly fitness machines, we began the year in a difficult position on fitness machines, but we've seen a real resurgence in that market. We're now backing into growth in the fitness machine market, something we didn't think we'd be in and certainly wouldn't be without the help of the Olympic Games."
Rogers says stock has been carefully calculated, not to run out and not to hang around. Although he insists that the end of the games won't mean that sales of Olympic products will falter. And even if you've decided not to buy, the room with a view makes the trip worthwhile.
Related stories
Editor:Yang Jie |Source: CCTV.com