Watch Video
Play Video
Times are certainly tough for bookstores. In Shanghai, they are struggling to survive in a city where commercial rents are soaring, not to forget fighting the internet competition. But those that make it have their own ways of attracting customers in the age of online bookstores.
The newly opened Xinhua bookstore near downtown Shanghai's Jing'an Temple is huge - 130,000 square meters - with floors of books, an art gallery, a cafeteria, areas for public lectures, and a cinema. Visitors say this is very different from traditional bookstores.
"This bookstore provides a brand new experience, and offers much more."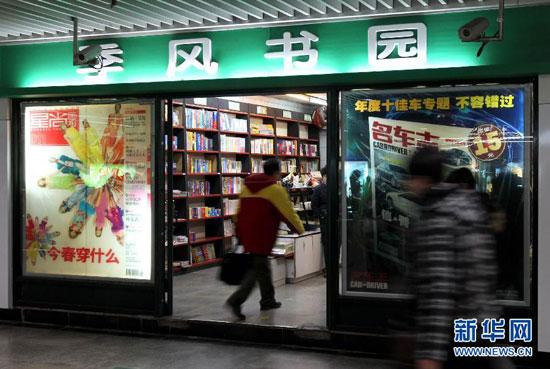 Jifeng's owner Yan Bofei says he was paying 2 yuan per square meter per day at this branch
near Jing'an temple back in 2001.
Wang Liwei, Exec. VP, SH Xinhua Media Co. "Customers nowadays don't only buy books, they want multiple choices of services in the same bookstore, that are interactive and cater to individual needs. So we hope to provide extra services to customers. For example, if you buy a travel book, the counter next to the books can help you book flights and hotels."
Wang says the pressure to attract customers is real, because of the cost of doing business in a prime location next to dozens of Shanghai's top-end shopping malls and office buildings... all charging very expensive rentals.
Zhang Ting, Shanghai, said, "More than half of the city's bookstores are actually struggling to survive because of increased rentals. Some have already disappeared such as the privately-owned Sikaole or the Scholar bookstore that used to occupy the largest bookselling floor in downtown Xujiahui. Another major company - Jifeng - was forced to close 3 of its 4 downtown branches."
Jifeng's owner Yan Bofei says he was paying 2 yuan per square meter per day at this branch near Jing'an temple back in 2001. But he says the rent went up 10 times since then and he had to give this place up. Although city authorities have started to give away subsidies of tens of thousands of yuan each for private bookstores so that they can afford the rentals, that won't ensure the bookstore's survival.
An even bigger challenge is that more and more readers are buying their books online, where they often cost much less. Last year, the U-S bookstore chain Borders shocked its investors by seeking bankruptcy protection. BRITAIN's biggest chain bookseller Waterstones has also closed eleven stores this year. In both cases, a major cause is competition from online book sales. And the same thing is happening here in China. On the country's biggest online bookstore Dangdang-dot-com, books go for between 15 and 50 percent off the official price in stores.
Customer said, "You can also read the comments and ratings of books online by those who have read that book, so you know better whether you want to buy that book."
Online bookstores have lots of information, but can't create the same kind of personal relationship between the book buyer and the seller.
Ruth Kuguru said, "It's more than just buying books. It's much more about having an experience. You would go sit there, and you would be among people who also appreciate books, who also appreciate magazines."
Dangdang.com CEO Li Guoqing says without having to pay for the rent and in-store staff, their business costs are significantly lower. Online bookstores use cheap warehouses to stock large quantities of books, which means they can negotiate at least a 15 percent discount with publishers. In 2010, Dangdang.com's sales exceeded 1.7 billion yuan. That's more than 5 percent of the revenue from ALL books sold in China last year. But as some Internet researchers have pointed out, China is still at a stage when online booksellers need to focus on the quality of their services, including the speed they put a publication up for sale, how quickly they deliver orders, and the service employees give to nurture loyalty.
Related stories
Editor:Yang Jie |Source: CCTV.com