Watch Video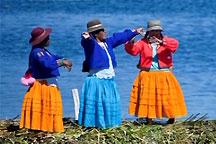 Play Video
The Cervantes Institute of Beijing is holding an exhibition titled "Peru through my lenses". Photographer Gong Bencai gave a speech about his experiences during his tour, and introduced his latest photography book. The event is in collaboration with the Embassy of Peru in China, as part of the "National Week of Peru" to celebrate its 191st Anniversary of Independence.
These images of the Latin-American country captivated Chinese viewers with its mysterious archeology, colourful nature, and rich cultural landscape.
He Beibei, Beijing, said, "The majestic mountains, beautiful lakes, as well as the affection and simplicity of the Peruvian people, all these images come from the camera of a person from a faraway land who has a special feeling for Peru."
Gong Bencai is a photography enthusiast and an entrepreneur. During his three years working in Peru, he took time to travel around the country, bringing back these precious photos. He says each photo was taken from the heart. And he thinks of Peru as his second hometown.
Gong Bencai said, "In order to celebrate the PISCO SOUR in Peru, people ride the horse and dance in the seashore. I took this photo at sunset, the scene was very beautiful. It was a happy time."
Gong enjoyed his experience there. And now through his book, he hopes to open a window onto Peru and draw more Chinese people to travel and invest there.
Gonzalo Gutierrez Reinel, Ambassador of Peru to China, said, "It's a wonderful book of our motherland about its landscapes, our people and the biological diversity. It's also the first book about Peru which is so integrated, comprehensive and complete both in Spanish and in Chinese."
The exhibition takes viewers on a photographic journey through ancient and contemporary Peru.
Visitor said, "The photos are excellent both in terms of photography skills and the artistic effect. After seeing them I have a strong interest in travelling to Peru."
"Peru through my lenses" runs until August 19.
Editor:Yang Jie |Source: CCTV.com