Watch Video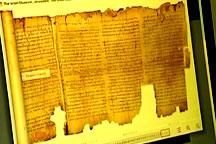 Play Video
World-famous religious relic, the Dead Sea Scrolls, these are the earliest known Biblical texts in existence today, dating back to the 4th century BC. Studied by religious scholars and historians for decades, they will soon be accessible in Chinese.
When the Dead Sea scrolls were discovered by a shepherd in these desert caves in the late 1940's, historians called it the "find of the century."
972 texts including fifteen thousand parchment fragments written in Greek, Hebrew, Aramaic and Nabatean, were extracted, analyzed, pieced together and translated then moved here to this museum for safekeeping.
Stephanie Freid said, "Beneath this dome behind me underneath the ground is where the d Dead Sea scrolls are housed. Now the dome itself is shaped like the lid of an urn to symbolize the urn the scrolls were found inside of, inside the caves."
The 2300-year-old relics preserved in cool temps and dim light were, until recently, only accessible here in Jerusalem
But thanks to technology and global cooperation, they can now be viewed online. And by summer's end, they will also be available in Mandarin.
Dr. Susan Hazan, Curator New media, The Israel Museum, said, "We realized there's potentially there are a lot of people that we could be talking to. If this was popular in English, what would happen if it was in Chinese?"
Hong Kong based linguistics students are spending a combined 2000 hours on site translating the scrolls and transferring their work to the Web.
It is a rewarding but tedious project that at times has necessitated consulting with their professor back home
Lau Mei po, Translator, Dead Sea Scrolls, said, "'Priest', the term 'Priest' - This is difficult to translate into Chinese because it is not common to have the priest term in Chinese, so we have to think about it. After discussions we had to add some footnotes below to the Chinese to add more some background information."
Steeped in Taoist, Confucian and Buddhist tradition, China might not seem the ideal venue for biblical writings.
But the expert here says the scrolls have mass appeal.
Dr. Adolfo Roitman, Curator, Dead Sea Scrolls Collection, said, "Most of the Dead Sea scrolls are spiritual writings. They speak about in some way the meaning of life. About divine forces, about demons. Even for people who don't belong to the Jewish-Christian civilization, still think they are able to find meaning in these ancient, spiritual writings."
When these students return home in a few weeks, they take with them inspiration for preserving their own history.
Meng Qian Yu, Translator, Dead Sea Scrolls said, "We might want to bring this idea of how to digitize all culture heritage objects back to Hong Kong."
Editor:Yang Jie |Source: CCTV.com