Watch Video
Play Video
Liu Yan was once considered one of best classical dancers in China. But a lethal accident in the preparation for the 2008 Beijing Olympics Opening Ceremony marked the end of her career. As a dancer who can no longer dance, Liu is on a journey to find a life of meaning and happiness.
Jiang Ping, student of Beijing Dance Academy, said, "The first time I knew about her was when I watched her perform Yan Zhi Kou and later on started to follow her other performances. When I heard she injured herself during the Olympics, it really saddened me."
Feng Shuangbai, Deputy Chairman of Chinese Dancers Association, said, "Before the accident, she's been a leading dancer in multiple dance plays. Dance plays are the highest form of art in this industry and she did many of them. The rate of success and finding such a talented person may be one in ten thousand and I'm not overstating at all."
A shattered dream and a new beginning. Liu Yan considered China's leading classical dancer, had prepared a six-minute piece called "Silk Road," in the 2008 Beijing Olympics Opening Ceremony. But two weeks before the show, during a rehearsal at the National Stadium, she leapt toward a moving stage that malfunctioned, causing her to fall into a deep shaft and crash against a steel rod.
Liu had severely injured her vertebra and was paralyzed below the waist. It was unlikely that she would ever walk or dance again. It's hard for other people to think over this matter completely from Liu's perspective. But Liu said she finds herself lucky among all the misfortunes that have happened to her.
Liu Yan, classical dancer of Beijing Dance Academy, said, "Three months after I got injured, my American therapist Ranason came to China to visit me. He asked me to imagine what it would be like if I got hurt ten centimeters higher, then I wouldn't be able to move my hands. Things could have been even worse if I hurt my head, then I will not be able to eat by myself and would have difficulties in communicating with people. He said that I should look at my physical condition in a reasonable and optimistic way. At that time, I was irritated by his remarks. But now, four years later, I understand what he was trying to convey."
Liu Yan goes to Physical therapy every week. A few months after the accident she said she struggled to come to grips with the unimaginable while hoping beyond hope that someday she will walk and even dance again. Exercising her lower torso, hoping the lower part of her body will remember movement and somehow spring back to life.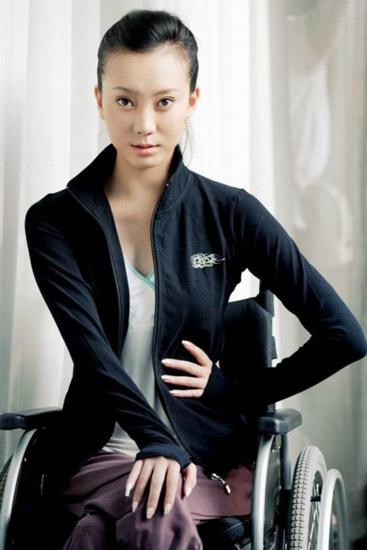 Liu Yan, dancer.
Liu Yan said, "Now when I do this it's getting easier. It was difficult before but now it's much easier like doing this and that. Before if I did this, I would fall and have no control over my body."
From a dancer to a paralyzed person is a bitter reality, Liu Yan's dream of dancing has ended but her dream of becoming a college professor is more of a reality. Right now she is a doctorate student at the Beijing Dance Academy studying Dance theory.
Liu Yan said, "As a dancer, I used to communicate with the audience by movements. Once I was informed that I could not move anymore, the first thought came to me was what will I do in my future? I'll be out of a job. It's a very cruel fact to me. Dancing is not only a job for me. It's also my career, my love. How can I live my life without dancing?"
Liu Yan said, "I told her that your glory as a dancer will fade, because you can't dance anymore. And your Olympic notoriety is also fading away. Now you should find your position in life and in your career. I told her you are a dancer; and your chances of performing on stage will be limited. But dance can be performed by different parts of your body. For example, hand dance. In the future you can study hand dance, because there are few people doing research on it. Now you have the adequate time to patiently study this field. In the future, you can be a teacher."
While figuring out a new direction for her career, she also found something that's dear to her heart. In 2010, Liu established her charity organization called Liu Yan art special foundation. It supports different aspects of art education to really teach disadvantaged children how to be a happy and healthy individual.
Liu Yan said, "After I got injured my eyes opened to see many disadvantaged people, senior citizens, the handicapped and children in need; especially the orphans. I was so attracted by their pure and sincere smile. They seemed to be healthy but I sensed that they needed more love because they don't have parents. Since I have studied the arts from an early age, I was hoping that I could provide the same opportunities to those kids who have lost their parents. Besides studying math or Chinese, they can also study art, such as dance and clay modeling. I really just wanted to give more color to their lives."
Liu Yan said, "It's just like there was a voice telling me that I can only dance for six years. So I never stopped dancing. Even during the weekends, I would still practice in the studios. Thinking back, if I knew that I would get injured, I might have stayed up all night to dance. Some of my friends would say I'm very lucky because many dancers throughout their whole lives wouldn't have had that many chances to participate in so many dance plays like I had. I strived very hard during those years."
Gao Du, director of Beijing Dance Academy, said, "She was my principal dancer for three of my dance plays."
Liu Yan said, "The Olympic spirit is not only about 'Higher, Faster, Stronger.' It also values one's participation. Through my understanding, I can develop more positive elements from the idea. I can find a positive force and energy to strive for the best. Despite that I missed the opportunity to be part of the Beijing Olympics; and it was a pity that I wasn't able to perform, I was given the opportunity to be one of the torchbearers for Montreal Winter Olympics in 2010 representing China. I was sitting in my wheelchair with the Olympic Torch above my head. Thinking about it, I feel life is full of amazing incidents. I will continue my own Olympic spirit. It's like a shining essence guiding me in my life. Although I'm paralyzed, I still want to adopt a positive attitude in everything."
Related stories
Editor:Wang Chuhan |Source: CCTV.com