Watch Video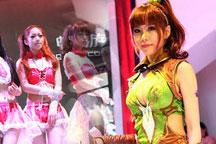 Play Video
Attention video game lovers! The China Digital Entertainment Expo & Conference is taking place in Shanghai, bringing joy to gamers and developers alike. So perhaps that's why the event is also known as Chinajoy.
The debut of new games is always a great highlight at Chinajoy every year. Gamers can get a taste of the upcoming releases down to the last detail.
Zhong Liuyang, Gamer, said, "The graphics and packaging is not that important, very often it's the details of a game that attracts you."
On-line games attracts the most gamers in the industry. At its heart is the spirit of innovation. Developers are working tireless to improving and introducing new features into their products.
Yang Zhen, Director, Sina Online Gaming, said, "Graphics, sound, storyline and various other elements are what makes a good game, at the end of the day, gamers are the ultimate judge"
After more than a decade of development, Chinese game developers have not only survived but thrived under fierce competition. And the works showcased at Chinajoy is a great example.
Related stories
Editor:Yang Jie |Source: CCTV.com