Watch Video
Play Video
A selection of statues have received specially commissioned headwear. Among them were the statues of Admiral Lord Nelson in Trafalgar Square and former U.S. President Franklin D. Roosevelt sitting next to that of former British Prime Minister, Winston Churchill.
Lord Nelson's new updated bicorn hat showed the British colours and came complete with a replica of the Olympic torch.
Roosevelt's new headpiece attracted attention from tourists, who were eager to pose on the bench next to him.
King George IV in Trafalgar Square also topped a very modern headpiece.
Hatwalk is part of the "Mayor of London presents" initiative that sees various pop ups around the British capital. Some tourists on the square say it's great the city is casting some of its cultural landmarks in a new light.
Alastair Duncan, Tourist from England, said, "This is my second Olympics. I went to the Moscow Games in 1980, which was certainly a cultural experience as you can imagine in those days, and I think we're showing off the best of British very well."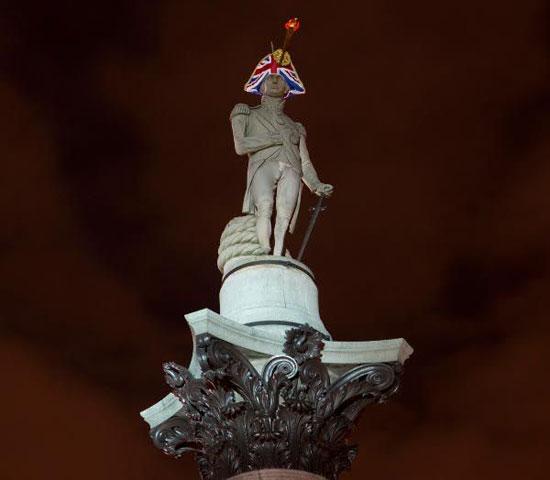 Lord Nelson wears a specially tailored hat for the Hatwalk
Other visitors hailed the atmosphere they have experienced since the start of the Games.
Diana, Tourist from California, said, "So many people are intrigued to in the Olympic Games. Everybody wants to be a part of it, and it's a really a cool feeling to know that you're part of it, too."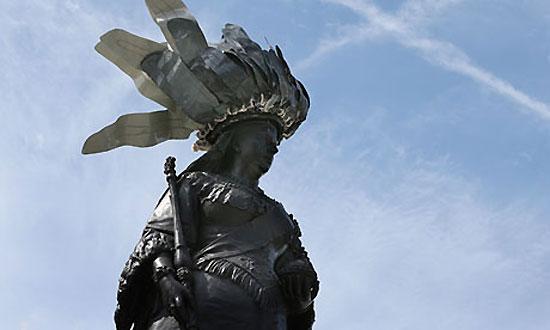 Hatwalk has given Queen Victoria's statue at Blackfriars in London a new hat by J Smith
Esquire. Photograph: Peter Macdiarmid/Getty Images
The city may be more crowded than usual. But the fun is certainly no less.