Watch Video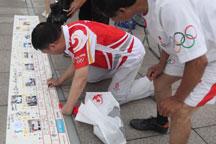 Play Video
All eyes are on London right now for the 2012 Olympics, but it's also a special year for Beijing, where memories of hosting the Games in 2008 are still fresh in people's minds.
With Olympic fever in the air once again, Beijingers can't help but think back to the Beijing Olympics with a renewed passion for competitive sports. Ever since the capital played host to the world's biggest sporting event, a special celebration has been held on this day each year to mark the moment Beijing became an Olympic city.
A moment that China will remember forever.Four years ago, the opening of the Beijing Olympic Games ignited the passion of the entire nation.
On that same day four years later, participants in the Beijing Olympics gathered once again in front of the Bird's Nest Stadium. For most of them, it's a chance to relive the glories of the past, and more importantly, to share how their lives have been changed by the Olympic spirit.
An Olympic fan said, "This book belongs to one of my friends. He started travelling to every Olympic city from the beginning of this year to visit those who have participated in the previous Olympic Games. During his travels, he collected a lot of stamps, photos and signatures. It's his own way to pay tribute to the Beijing Olympics and celebrate the London Games."
Also on this day, the Beijing Olympic Annals was launched after seven years of hard work. It chronicles the Games in exhaustive detail, including everything from the venues, to the sporting events themselves.
Wang Tiepeng, Beijing Chronicles Office, said, "Beijing Olympic Annals covers the history from 1990 when Deng Xiaoping toured the Olympic village to the end of the Beijing Olympic Games. It fully records the details of the application, the preparations, and the actual conduct of the Games themselves. It's unprecedented in the Olympic history."
The Beijing Olympic Games didn't just bring a great sporting event to the capital, it made the city a better place. Enriched by culture, empowered by technology, and more aware than ever of the natural environment - Beijing is a city that's gone from strength to strength.
Editor:Zhang Hao |Source: CCTV.com