Watch Video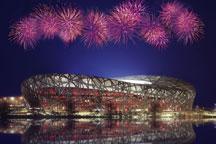 Play Video
The Beijing Games may have been and gone, but memories can be captured by the lens and preserved for posterity. Now the exhilaration of the Beijing's Olympic moment can be relived once again at a special exhibition at the capital's Olympic Green.
Four years on, it's time for Beijing to look back at the glory of the Olympics and reflect on the Olympic legacy. At the Olympic Green, a special photo exhibition themed "Glory and Inheritance" is now underway.
More than 100 photos have been chosen from 6000 shots submitted both from home and abroad. All of them are united under one theme --the Beijing Olympic Games.
Zhang Fengchao, Director General of Beijing Olympic City Development Foundation, said, "The Beijing Olympics was unprecedented in history. It left us a fortune, both financially and spiritually. Photos are the best records for those historical moments, that's why we are holding this exhibition. Through this exhibition, we want to inspire people to carry forward the Olympic spirit."
Sorting through the thousands of images, the evaluation committee carefully chose an elite collection, awarding 1 gold, 2 silver and four bronze prizes. For the winners, the prize was a big honour.
Cheng Guimin, Bronze prize winner, said, "The 2008 Olympic Games was an exciting event for all Chinese people, including me. As an amateur photographer, I went to the Olympic venues many times to take photos. As a Chinese, I feel very happy and honoured that I get the award and witness the glory of the Olympics. "
These images vividly represent the unforgettable moments of the Beijing Olympic Games, and how those memories live on to the present day.
The exhibition will run until August 22nd.
Editor:Zhang Hao |Source: CCTV.com