Watch Video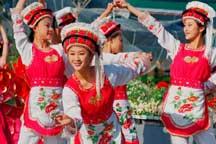 Play Video
The Bai people of the Dali Bai Autonomous Prefecture in Yunnan province cherish their traditions. One of these is their annual torch festival. It's a celebration of light, heat and daring. Song Yaotian has more from the spot.
Xizhou is one of the larger Bai villages in Dali. Women here made sure to dress up very early on Sunday for the big celebration coming at dusk - the torch festival - celebrated for more than a thousand years.
Song Yaotian, Xizhou Village, Dali said, "I'm now in the courtyard of a tradition house of Bai people. Villagers here are dressed in their traditional costumes for the big occasion. I feel very honored to be dressed up just like a Bai ethnic girl, to join the celebration."
The celebration begins with a massive torch set up in the village center. Its bundles of bamboo stalks stretch twenty meters into the air, and takes dozens of men to lift into place. A prayer object called the "Sheng Dou" is then attached to the torch. Its colorful flags, dolls and fruits, represent blessings for fertility, good weather and a bountiful harvest.
Yang Zhengye, Former Director, Bureau of culture, Dali said, "The festival's origins have to do with their ancestors' worship of fire. People used fire to burn insects and pray for a bumper harvest."
When all is ready, the villagers run off to fetch fire from the altar of a nearby temple - then a surprise. After the torch is lit, young men climb upward to snatch items from the prayer object. They believe pieces grabbed from the burning structure will bring luck for the coming year with the highest piece bringing the greatest blessing. Here's this year's victor.
Villager, said, "I went for it because I'm going to get married soon. I want the best luck."
Nearby a bonfire is lit - which people dance around in an expression of joy and happiness. And smaller torches are also lit, which villagers use to drive away bad luck.
"I'm now holding a smaller version of the torch, just like other villagers. Villagers will hold it to walk around the streets, their house, and farmland. In this way they hope they can bring good luck and happiness all around. "
Related stories
Editor:Wang Shuo |Source: CCTV.com