Watch Video
Play Video
Dozens of publishers have gotten together to talk about their future in an age of digital publishing - which many consider a double-edged sword. But some say the boom in digital distribution will help encourage young Chinese to read more.
This is how engineer Xu Ling normally spends time on his way to work. He's one of many people who read from their mobile phones while waiting for their train. They say it's easier to read from a phone or an electronic tablet, because those devices have other useful functions like GPS.
Xu Ling, Shanghai Resident said, "I haven't bought a single copy of a printed book since I started downloading and reading e-books two years ago. I now read for at least one hour a day on my phone."
Earlier this year, China's press and publishing authority reported a 65-percent increase in the amount of time people spent in that kind of reading between 2010 and 2011, and said most of those readers are younger people born in the 1980s and 90s. Some call that a big change, because Chinese people are less likely than many others to read in public. Another survey shows that on average, a Chinese person reads fewer than five books a year - far below the average of 40 books in Japan, 50 books in the United States, and 60 books in Israel.
Some readers say the last book they bought was a textbook for their children, or a tool book for work.
Ruth Kuguru, Founder, Grace Publishing said, "Historically many of my friends here say oh Chinese people don't read as much, but I think that's gonna change more and more. And I don't think that's because they don't want to. I just think maybe there's an opportunity to create content that's worth reading."
A reader told CCTV, "Some writings I enjoy reading were not necessarily by professional writers, but by ordinary people who shared their thoughts and observations about life. That's often inspiring, even if it's as short as a few hundred words, which is not enough for traditional publishing."
One local publishing leader says that while the industry hasn't yet started to focus on the younger generation, young people do have an impact on digital publishing when it comes to choosing what to publish.
Guo Qiang, Secretary-general, SH Publishing Association said, "Traditional publishing needs at least three to five thousand copies to get started with, so if the book doesn't sell, the copies will sit in stock. Digital publishing is more flexible and can better adapt to what readers want without having to worry about printing costs. "
But Guo says digital reading should not replace print reading because e-publishing is tailored to reading during short periods of time, instead of longer uninterrupted periods that allow the reader to do some quality deep thinking.
Average Chinese reads 6 books a year
The average Chinese person reads six books a year, far fewer than the average in Western countries, said an official at the annual Shanghai Book Fair, which opened on Wednesday.Full Story>>
Book fair kicks off in Shanghai Slide Show>>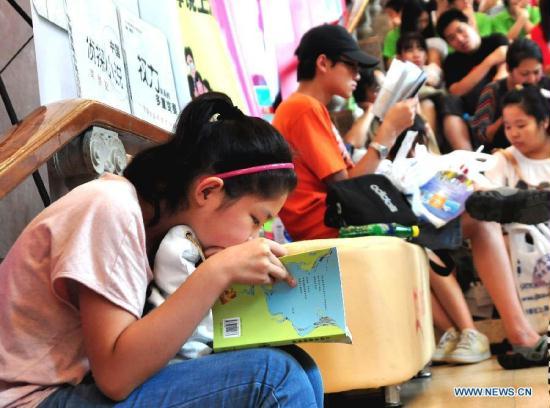 A girl reads a book (L, front) at a book fair in Shanghai Exhibition Center, east China's
Shanghai Municipality, Aug. 15, 2012. The seven-day 2012 Shanghai Book Fair, which kicked off
on Wednesday, attracted almost 500 publishers. (Xinhua/Li Mingkun)
Editor:Wang Shuo |Source: CCTV.com