Watch Video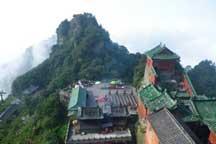 Play Video
If you want to see the highest standards of ancient Chinese architecture, then the Wudang mountains are the place to go! This mountain range in central China may be small, but it draws huge numbers of tourists every year to its magnificent Taoist monasteries.
Nanyan temple sits precariously on the cliffs as its done for centuries - built in the Yuan dynasty, it is now over 700 years old.
The temple's pillars and windows are all made with heavy rare stones. And it took 27 years to build - a sign of the great piety of Taoists.
Yang Lizhi, President, Wudang Culture Research Institute said, "The man who started the project was a Taoist named Zhang Shouqing. He had neither many disciples, funds nor support support from the emperor - so he overcame great obstacles to build this temple.
Another incredible landmark is the Golden Hall - built with 20 tons of fine copper and 300 kilograms of gold. And the processes behind its decoration were fascinating.
Zhang Lianggao, Professor, Huazhong UNIV. of SCI. and TECH. said, "They mixed gold with mercury and painted it on the surface, then they heated the paint to dissolve the mercury - leaving only the gold behind. But it's still a mystery how they did it so perfectly."
With wonders like these standing right alongside the esoteric teachings of Taoism, it's no surprise so many are drawn here every year.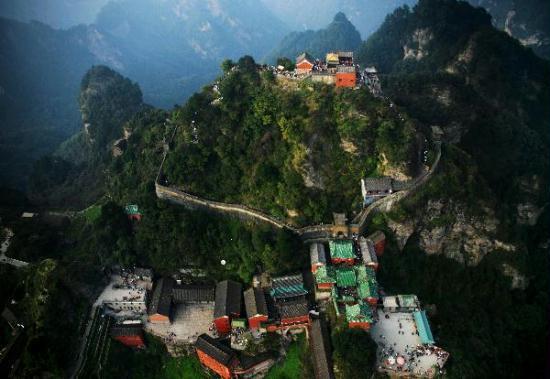 Photo taken on May 25, 2010 shows the scenery of the Wudang mountain, central China's Hubei
Province. From offering ticket discounts to organizing activities, China's cities and
provinces are gearing up for the country's first national tourism day, which falls on May 19,
2011. (Xinhua/Yang Guangzhi)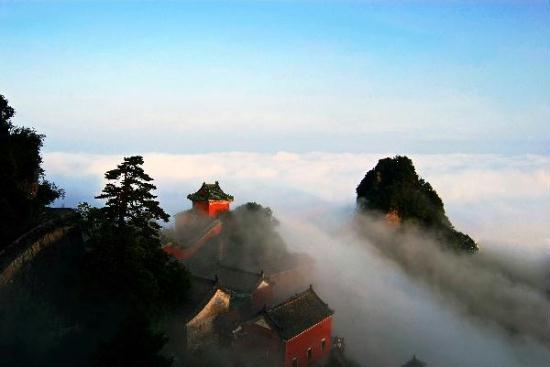 Photo taken on May 25, 2010 shows the scenery of the Wudang mountain, central China's Hubei
Province. From offering ticket discounts to organizing activities, China's cities and
provinces are gearing up for the country's first national tourism day, which falls on May 19,
2011. (Xinhua/Yang Guangzhi)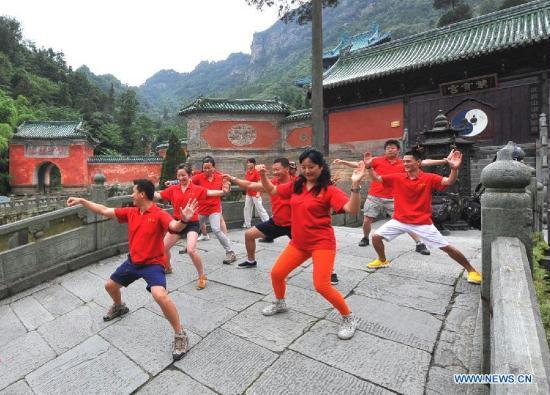 Visitors learn to play Taichi, a traditional Chinese shadow boxing, on the Wudang Mountain in
central China's Hubei Province July 11, 2012. As the cradle of the Taoist culture, the Wudang
Mountain was inscribed on the list of World Cultural Heritages in 1994. The scenery of the
mountain attracts tens of thousands of visitors every year. Over 4 million tourists from at
home and abroad are expected to visit the site this year. (Xinhua/Chen Haining)
Wudang Mountain's ancient complex
Wudang Mountain in Hubei province is renowned for its well preserved taoist palaces and temples dating back to the Yuan, Ming and Qing dynasties. These palaces and temples together were included on the World Heritage List by UNESCO in 1994. Full Story>>
East Gate of Yuzhen Palace to be raised
Due to the construction of the South-to-North Water Diversion Project, Yuzhen Palace on Wudang Mountain is facing the danger of being flooded. Full Story>>
Editor:Wang Shuo |Source: CCTV.com