Watch Video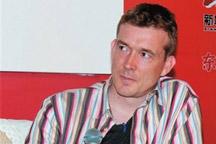 Play Video
Since the invention of sound films, people have never stopped comparing stories in novels to the big screens. British writer David Mitchell's novel 'Cloud Atlas' has been adapted to film with the same name. At this year's Shanghai Book Fair, Mitchell brought his novel and attended a fascinating forum with Chinese writer Su Tong, discussing the relationship between film and novel.
British writer David Mitchell's Cloud Atlas novel has been transformed into an outrageously ambitious wannabe blockbuster. The novel won numerous awards, and was short-listed for the 2004 Booker Prize.
Along the same lines as Mitchell, Su Tong's novel 'Husband and His Wives' was also adapted into the film 'Raise the Red Lantern' and was tremendously successful. Naturally, film became their common interest.
The British writer says he respects the work of filmmakers and would be very glad if the film won an Oscar. But for David Mitchell, although film is good looking, a book is far more powerful.
David Mitchell, British writer, said, "I think, the film, when you watch it, it comes into you. You experience it for 120 minutes, and it goes away again. And when you leave the book, you're no longer the same person. "
Chinese novelist Su Tong says he doesn't want to be kidnapped by film. Instead, he prefers a tentative relationship, not too far or too close. The Chinese writer also said a great work can never be adapted into a good film.
Su Tong, Chinese novelist, said, "Hitchcock said that a novel that can be adapted into film must be a second or third class novel. In my understanding, I would say that a film can do nothing with a great novel."
When turning any piece of literature into a film, there are always a number of distinct and unavoidable differences. But whether they work out or not, for both Mitchell and Su, they have benefitted a lot from these two mediums.
Editor:Wang Chuhan |Source: CCTV.com