Watch Video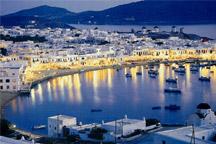 Play Video
Open air cinemas are a feature of the Greek Summer. Despite being hit hard by the country's financial crisis, Greeks are still making the most of the good weather and joining the tourists to take in a movie under the stars.
The popularity of outdoor cinemas is on the rise all over Greece. The most famous being those in the center of Athens with views of the Acropolis.
The trip to old Athens starts in Dionisiou Areopagitou Street in the center of the Greek capital. The destination is one of the outdoor cinemas, a well-known choice of entertainment, hidden among the Athenian backstreets.
The romantic heart of Athens beats strongly despite the economic crisis. And the good news is that tickets are relatively cheap so everyone can enjoy the big screen under a starry sky, or summer cinema, as the Greeks call it.
Thomas Maniakis, owner of "Cinema Thisseon", said, "People love to watch a good movie outdoors, with good beer. It's a cheap form of entertainment, and we can take a break from the worries of the economic crisis."
"Thisseion", one of the oldest outdoor cinemas, built in 1935, is considered the best cinema. The majestic view of the Acropolis is breathtaking.
Open air cinemas first appeared in Greece at the end of the 19th century and entry was free. In the 1930's, it changed, people started having to pay entry. But in an uncertain world, one thing doesn't change: the Greek passion for their outdoor summer cinemas.
Related stories
Editor:Wang Chuhan |Source: CCTV.com