Watch Video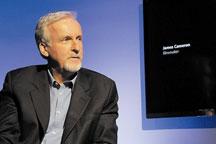 Play Video
Hollywood director James Cameron is hitting the headlines again. Hot on the heels of his 11,000 meter expedition below the surface of the sea, he's now in the process of bringing the world's leading 3D technology to China.
China's movie market is growing so rapidly right now and now everyone wants a piece. Well, one of first from Hollywood to take a bite is big time director James Cameron. And that's a big bite at that. He wants to bring 3D technology to China, a market he believes is on the verge of transitioning from 2D to 3D.
So his company Cameron Pace Group has made a joint venture with two Chinese partners. And here we are in Tianjin one of the big studios. Although it does look rather bare right now, this is where most of China's 3D films will be born.
It all started in this April when James Cameron showed up on the red carpet of the Beijing International Film Festival. But his identity was more than just a film director. He was in Beijing as a businessman.
He signed a letter of intent to build a 3D technology corporation in China. And just 100 days later, the formal contract was signed in Tianjin, faster than anyone expected.
James Cameron says, "This is an adventure, to start this big project here in China. For me it's a plunge into the unknown, which I love."
The director called the joint venture in China one of the three adventures in his life. The first one was Titanic, the other the expedition in the Mariana Trench.
In 2009, Cameron initiated the current 3D fever with his history-making block-buster "Avatar." And three years on, 3D is the catch phrase all over the world.
Some critics described James Cameron's launch of CPG China as "inevitable."
BI Chenggong, Playwright & Film Producer, says, "After 'Avatar', everyone wanted a piece of 3D technology and compete to lead it. For example, director Peter Jackson shot his 3D movie 'The Hobbit' with technology that has 50% more frames in a picture than that of 'Avatar.'
Meanwhile, director Ridley Scott, whose 'Prometheus' will meet Chinese audiences next month, is also developing a new 3D technology. As Cameron, is such a technology maniac, he will surely stick to the arena of 3D technology. The question for him is who to cooperate with."
Tianjin, a port city two hours'drive from Beijing was chosen as the setting for CPG to build its Chinese home. The office and studio of the new company are located in Tianjin's hi-tech zone which provides favourable policies and a professional industrial environment.
Wang Dafang, director of Cameron & Pace Group China, says, "CPG China is joint project by three major partners. Hitech Holding has 30% of the company's shares and mainly provides capital and technology support. It has assets worth over 80 billion yuan, a very powerful company in Tianjin Binhai New Area.
Next is Tianjin North Film Group, mainly in charge of creation and production, who has a 29% share, the same amount as CPG. And CPG will provide its core technology and production team, and managing ideas."
As Wang Dafang told us, there are eight main sections of services: 3D technology verification, production services, and event broadcast and relay services. In addition to a research center for 3D technology, the company also has an education section that aims to cultivate professional teams.
The company has a very clear line for future development. And so does Cameron.
James Cameron says, "I'm not trying to influence people and tell them what kind of movies to make, or what the content of the movie should be, and who to cast. Those are their creative issues. We'll just be there as enablers and equipment providers."
While the big time director intends not to mix his identity of a businessman and a movie director, the impact of this joint venture, however will for sure be huge on the culture industry in China.
The company is now going through legal registration procedures and is planned to start business by the end of this year. The two-thousand-square-meter studio may look empty now, yet maybe before soon, China's entire movie market will feel its existence.
Related stories
Editor:Wang Xiaomei |Source: CCTV.com