Watch Video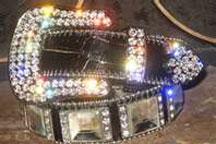 Play Video
During these times of economic hardship, Hollywood's rich are simplifying their jewelry and recycling their gems. But bling still rules. Stacked diamond bracelets and chandelier earrings are this season's latest trends.
This is where Hollywood stars come to find the perfect jewel to complete their red carpet looks.
Martin Katz has been designing jewellery in Los Angeles for over twenty years. Austerity is not a word he is familiar with.
Katz said, "With jewellery trends this year, you see be a continuation of long chandelier but very simple chandelier type earrings layering of necklaces, always popular, stackable bracelets, worn formally and informally. There is also the continuation of large scale rings."
But Hollywood is aware of a world beyond the Hollywood Hills and many people are uncomfortable with showy jewellery, preferring fine chains and a whimsical and irreverent look.
He said, "The economy had a lot to do with the relative perception of jewellery. There were a lot of people saying I don't want to wear something that looks like I have too much. "
The other big trend right now when it comes to styling is the micro pavet setting, ultra tiny diamonds surrounding the big stone so the stone pops.
People are now bringing in their old jewels to have micro pavet settings made to modernise their old jewellery.
Sheila Mashian, CEO of Cabochon Fine Jewellerty, said, "Often it's used to delicately frame with small diamonds or to add brilliance and beauty to the centrepiece. You can usually micro pavet any kind of a stone. "
Also big for micro pavet is the engagement ring, where one large diamond is surrounded by many tiny others. Even romance is undergoing austerity, Hollywood style.
Editor:Zhang Jingya |Source: CCTV.com