Watch Video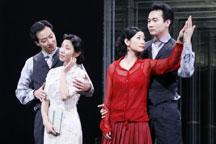 Play Video
With their sharp, sensitive and often unsettling depictions of life and love in the big city, the literary works of 1940s Shanghainese novelist Eileen Chang gripped tens of thousands in their day and still do today. On Wednesday night, a drama adapted from her classic "Red Rose and White Rose" returned the National Center for the Performing Arts in Beijing. Narrating from the perspective of urban white-collar workers, the play struck a chord with the audience.
How can a man ever choose between one or the other?
This is the story of Tong Zhenbao who, like many other men, has always had two "roses" in his life.
The passionate lover he would seek out but never marry, and the respectable woman he would marry but not share love or passion with.
Years ago, he deserted the former to marry the latter. Now, he cheats on his wife with illicit affairs...Until one day he discovers, to his dismay, that his spotless "white rose" wife and the former "red rose" lover he forsook, are both not what they seem.
After all, a woman, unlike a rose, isn't just one color.
Speaking in the delicate voice of the female, director Tian Qinxin translates Eileen Chang's famous novel into a bold and powerful stage work.
And, like five years ago when the drama made its debut at the National Center for the Performing Arts, it caused a sensation.
"This drama is great! Sharp and witty viewpoints and dialogue, rich and diverse performance form, ultramodern stage and beautiful nostalgic costume. And it also makes me think."
The actors have performed over 50 shows in dozens of cities. And this time, something new hit them.
Xin Boqing, Actor said, "I used to perform it passionately, and sometimes it could be a bit exaggerated. But now, after 5 years of performances I feel more relaxed on the stage. And this allows me to interact with the audience."
The drama also stars Taiwan's Golden Horse Film Festival 2001 "Best Actress" winner Qin Hailu as well as Gaohu and Shi Chunling.
"Red Rose and White Rose" runs at the National Center for the Performing Arts till this Sunday.
"Red Rose and White Rose" returned the National Center for the Performing Arts in Beijing
"Red Rose and White Rose" returned the National Center for the Performing Arts in Beijing
Editor:Wang Shuo |Source: CCTV.com