Watch Video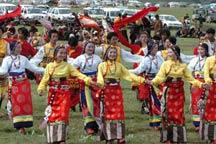 Play Video
Visual arts always attract a crowd, but in remote places, it is live performances that get most people to come out. The Ganzi Tibetan Autonomous Prefecture in Sichuan Province is located on the southeastern edge of the Qinghai-Tibetan plateau. It has 18 counties covering an area of 156,000 square kilometers with a population of more than 1 million.
Due to the area's poor infrastructure, many herdsmen there don't have the chance to enjoy entertaining shows or cultural performances. To solve the problem, local government officials have sent ethnic performance troupes to tour the prefecture.
One hour before the performance, the "stage", a lawn in the center of this herdsmen settlement was already packed with locals. They all came early to get a good spot to watch the show.
A local resident said, "I'm really looking forward to watching the performance. So I came early to get a good spot."
And the show is totally worth all the hype. Traditional Tibetan song and dance are one of the highlights of the show. Passionate melodies and energetic moves won rapturous applause from the audience.
The performers also feel honored to give a show here.
A performer said, "I'm impressed by the people here, they are very nice. It's a pity that they don't have many chances to watch a show. But I think they will in the future. "
Beginning this month, the Ganzi Tibetan Autonomous Prefecture began to send ethnic performance troupes to tour the prefecture. Local officials say that the troupes will give performances in more than 2,400 villages in its 18 counties. They hope the shows will help bring more entertainment and cultural performances to this relatively isolated area.
Related stories
Editor:Wang Chuhan |Source: CCTV.com