Watch Video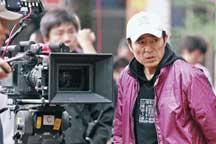 Play Video
If you're in your 50s, you may still remember the days of watching open-air movies under the skies. But for the vast number of today's movie-goers who relish a hotly anticipated blockbuster on an IMAX screen, that's much of a novelty. Movie-trends transform, as do the way people enjoy their time in front of a screen.
61-year-old Mei Haixing is a dedicated fan of the Shanghai International Film Festival. He holds dear all those memorable moments, as well as the posters and cinema tickets in these 6 paper clippings.
Mei Haixing, Movie Fan, said, "This is the tickets from the first Film Festival. I still remember the film I watched then, it's called 'Country Teachers'."
Mei Haixing has a special penchant for Chinese home-made movies. So he was very happy to see one win a "Golden Goblet" prize in 2002 at the 6th film festival.
But younger generations seem to have a bigger attraction to blockbusters, whether they are made by Chinese filmmakers, or Hollywood.
And instead of lining up for tickets at the box office counter, they now have more choices. Take Rao Jia for example, the regular movie-goer usually buys tickets via her mobile phone.
Rao Jia, Movie Fan, said, "It's more convenient. It saves me a lot time, and sometimes I can get discounts."
Mei says that ten years ago, there were only two or three movies that hit the big screen in one month. But now, there are new releases almost every day. And this makes the screening schedule even more important.
Tang Xiuxia, Cinema Manager, said, "When we make the schedule, we take many factors into consideration. And most importantly, we must cater to the target audience. For example, if it's during the summer vacation, we will put more movies favoured by students in."
With the ever-growing selection of movies hitting the cinemas, the way people enjoy their movies also diversifies, whether outdoors or on 12-meter-high screens.
Related stories
Editor:Zhang Pengfei |Source: CCTV.com