Watch Video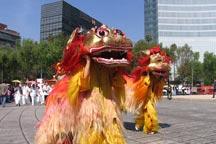 Play Video
By CCTV correspondent Franc Contreras
Chinese immigrant communities can be found all around the world. More than 100 years ago, they helped build the railroads of the western United States and northern Mexico. Many stayed and became part of the Mexican community.
Chinese culture is everywhere these days. But in this town along Mexico's northern border, it's particularly strong.
Generations of Chinese entrepreneurs have settled here, and the local people have come to depend upon them.
Products imported from China are always available in this city, where Chinese culture is thriving.
The Chinese Association wields great influence in Mexicali, the capital of North Baja California State.
78-year-old Julio Yi is a former Chinese community leader with four generations of family history here. They were among the founders of the city.
Over the years they've become a formidable business force here. He was stood among them.
They brought business, and many more.
Franc Contreras, Mexicali, Mexico, said,"Cultural symbols like this are everywhere in this Mexican border city, which is said to have been founded by Chinese immigrants. So many have come over the years, they now number more than 10 thousand."
And Chinese restaurants far outnumber the Mexican ones. The local people come to these plentiful buffets daily.
In this border city the Chinese and Mexican communities understand that to advance, they must continue to stand together.
Editor:Qin Xue |Source: CCTV.com