Watch Video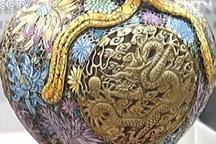 Play Video
Traditional Chinese art like porcelain, brocade and Buddhist painting are among the highlights of this year's "Art China", Beijing's annual art trade fair. The fair held at China's Agriculture Exhibition Center is a feast for both art lovers and collectors.
At the ancient artifact zone, a gourd shaped porcelain vase created in Qing dynasty around three hundred years ago, is attracting a lot of attention with its elaborate design and brilliant color.
While brocade from Sichuan also steals limelight with its antique flavour. Sichuan brocade, also known as a tapesty, is a famous silk product, hailed for its sturdy quality and vibrant colors. The skill has been listed on China's national intangible heritage list. The pieces on display are all works from two masters. The government has named them the only remaining artists in the country to have inherited the teachings and skills to create brocades.
Wang Bin, agent of Sichua Brocade, said, "It is made by using a silk with seven colors. It has a feel like a relief sculpture. Our ancestors liked to wear clothes made from this kind of brocade."
The Tibetan art, Tangka, is a scroll painting drawn on paper or cloth depicting stories of the Buddha. The ones in the exhibit reign from Regong of Qinghai province, believed to be the hometown of the art form. According to a local artist, these very thin lines delineating the images can only be done by a painter with more than two decades of experience.
Niang Ben, inheritor of Regong Tangka Art, said, "Through this magnifying glass, you can see clearly of the character's eyebrow and eyes. Each stroke testifies the painter's skill. He has to paint each stroke while holding his breath. And there's also no picture to refer to. Painters only have the picture in their mind. And they can't afford to make mistakes, because there's no chance to fix it."
The art fair has gathered galleries from both China and around the world. The pieces range from oil painting, ink painting, calligraphy, sculptures and porcelain.
Editor:Zhang Rui |Source: CCTV.com