Watch Video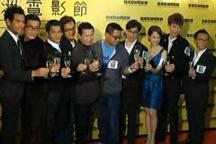 Play Video
The 9th annual Hong Kong Asian Film Festival opened on Friday with the cop thriller "Cold War" and a host of other films. Big names from the silver screen gathered on the red carpet for the opening ceremony.
The movie "Cold War" aims to take the genre of Hong Kong Police films to new heights. The film is about a race against time for police commissioners to rescue their colleagues from criminals. The film stars Aaron Kwok, who just celebrated his 47th birthday.
Actor Arron Kwok said, "Yes my birthday wish is that I don't' have to comment on my personal life. That's my birthday wish. I wish everyone can pay more attention to my work, my movie, my music, especially my movie, even my commercials."
Kwok's colleague Eddie Peng also has high hopes for the film.
Actor Eddie Peng said, "The script is great. All the actors took their jobs very seriously. You can't imagine how hard these two directors worked during filming. So when we were acting, we gave it our all. I hope the box office results are good, and maybe we can win some awards too."
The festival runs from Nov. 2nd to the 18th. It closes with South Korean film "Pieta" which snatched the top prize at the Venice Film Festival this year.
Editor:Zhang Rui |Source: CCTV.com