Watch Video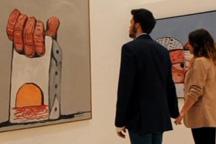 Play Video
Grotesque: it's a relatively new artform, but finding beauty in the fantastical and ugly is being celebrated in an exhibition in Madrid. Art works from all over Europe and America have been gathered together for The Grotesque Factor exhibition.
Welcome to the wacky world of the Grotesque. Beauty can be found in the ugly and the quirky, and now a major new art exhibition brings together the "Grotesque" from across the centuries, cultures and countries.
Entitled "The Grotesque Factor", the new exhibition is on show at the Museo Picasso Malaga in southern Spain.
The modelling clay animation entitled, "The Infinite Jest" by Curro Gonzalez is one of the highlights.
Gonzalez says he likes to subvert a character into something grotesque, and create creature humour and mockery like in the "The Beaver."
Artist Curro Gonzalez said, "For the last 20 years most of the work I've been doing has some connection with the world of the grotesque. I'm interested in the humorous side in the narrative that can arise from reworking and transforming the image into a grotesque character. And I am also interested in the influence of the main artists many of the whom are in this exhibition and who have played a major role throughout my career. A big influence."
The curator of the show says the Grotesque art form is a relative newcomer.
Jose Lebrero Stals, curator of The Grotesque Factor, said, "For a long time we have had the aesthetic categories of beauty and ugliness. But the aesthetic category of the grotesque has only been recognised academically since the 20th century."
Grotesque is said to date back originally to Roman times where gargoyle-esque decorations were used in palaces which have subsequently been excavated.
Stylistically, works that may be labelled as Grotesque often feature an eccentric mingling of the human with the fantastical.
By juxtaposing contemporary works with those that date back over more than five centuries, the exhibition allows visitors to wallow in a large number of expressions of what is grotesque through over 270 paintings, sculptures, drawings, engravings, books, documents and animations.
Editor:Zhang Rui |Source: CCTV.com