Watch Video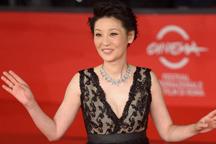 Play Video
The 7th Rome International film festival is now underway. This year's event will bring together more than 100 films from all over the world. Among them is the Chinese film "1942" - running for best picture.
It was all red carpets and flashbulbs on november 9th at Rome's Auditorium Parco della musica - A fitting start to the 7th Rome International Film Festival.
In a surprise move, "1942" by Chinese director Feng xiaogang will join 14 other entries from 8 countries aiming at the highest award - the "Golden Marc'Aurelio". The film premiers tomorrow - november 11th. According to Marco Muller - the festival's artistic director, the second "surprise film" may also come from China.
Muller, the former president of the Venice international film festival, has been promoting Chinese films for more than 10 years. This year his programming team created "Prospettive Italia", a section devoted to the best new Italian features, documentaries, medium-length and short films. Chinese actress and producer Zhao Tao, famous in Italy for her performance in "I am LI", will be helping judge.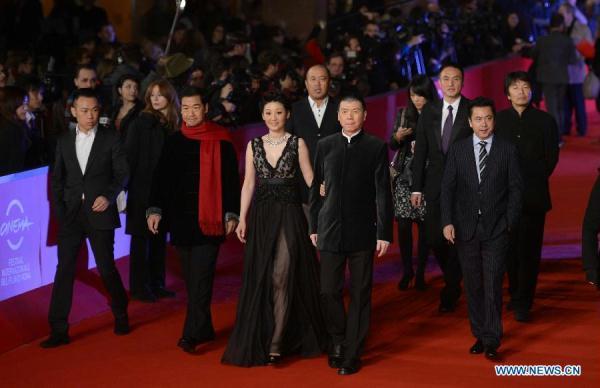 Chinese producer Wang Zhonglei, director Feng Xiaogang, actress Xu Fan and actor Zhang Guoli (R-L) walk on the red carpet of the 7th Rome Film Festival in Rome, Italy, Nov. 9, 2012. The 7th Rome Film Festival opened late Friday. Feng's "Back to 1942" was announced the first of two surprise films that will screen in competition at the 7th Rome Film Festival. (Xinhua/Wang Qingqin)
Zhao Tao, Chinese actress, said, "Around three or four Chinese films will be entered into this year's event. I hope to watch all of them to find something new."
Chinese director and author XU Haofeng will also take part in the "Cinema XXI" (Cinema 21) lineup with his second film "LIU Baiyuan, Judge Archer".
The 7th Rome international film festival will show more than 100 films during its 9-day screening. It ends November 17th.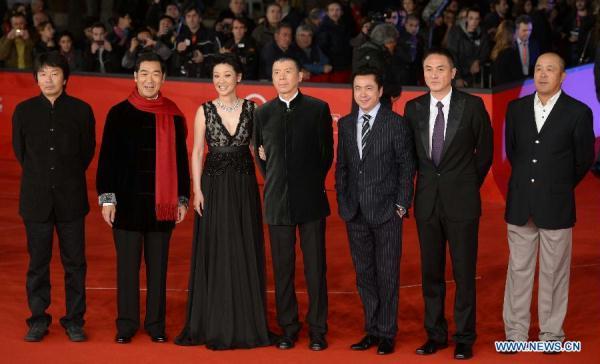 Chinese director Feng Xiaogang (C), actress Xu Fan (3rd L) and actor Zhang Guoli (2nd L) pose on the red carpet of the 7th Rome Film Festival in Rome, Italy, Nov. 9, 2012. The 7th Rome Film Festival opened late Friday. Feng's "Back to 1942" was announced the first of two surprise films that will screen in competition at the 7th Rome Film Festival. (Xinhua/Wang Qingqin)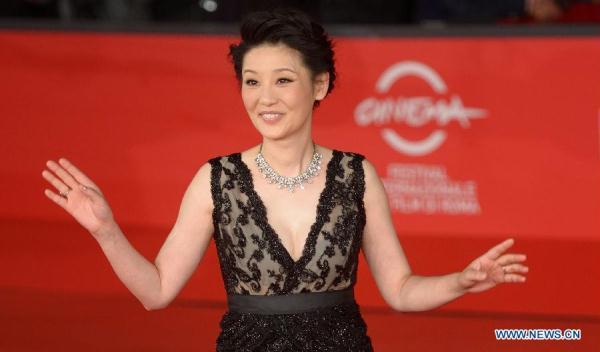 Chinese actress Xu Fan of the film "Back to 1942" poses on the red carpet of the 7th Rome Film Festival in Rome, Italy, Nov. 9, 2012. The 7th Rome Film Festival opened late Friday. Chinese director Feng Xiaogang's "Back to 1942" was announced the first of two surprise films that will screen in competition at the 7th Rome Film Festival. (Xinhua/Wang Qingqin)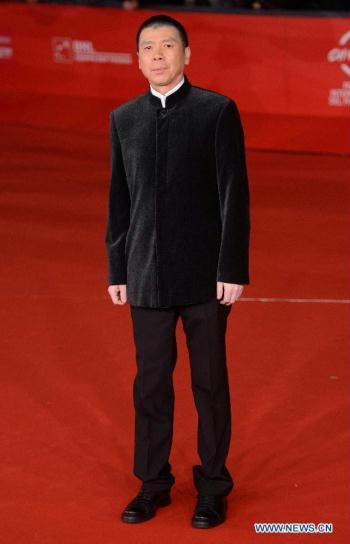 Chinese director Feng Xiaogang poses on the red carpet
of the 7th Rome Film Festival in Rome, Italy, Nov. 9,
2012. The 7th Rome Film Festival opened late Friday.
Feng's "Back to 1942" was announced the first of two
surprise films that will screen in competition at
the 7th Rome Film Festival. (Xinhua/Wang Qingqin)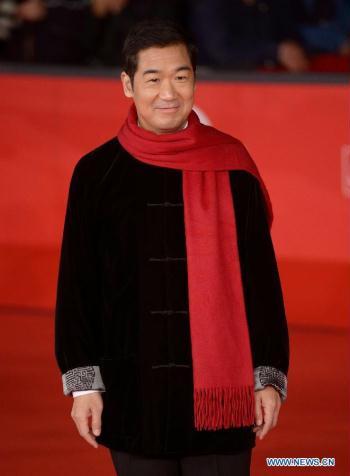 Chinese actor Zhang Guoli of the film "Back to 1942"
poses on the red carpet of the 7th Rome Film Festival
in Rome, Italy, Nov. 9, 2012. The 7th Rome Film
Festival opened late Friday. Chinese director
Feng Xiaogang's "Back to 1942" was announced
the first of two surprise films that will screen
in competition at the 7th Rome Film Festival.
(Xinhua/Wang Qingqin)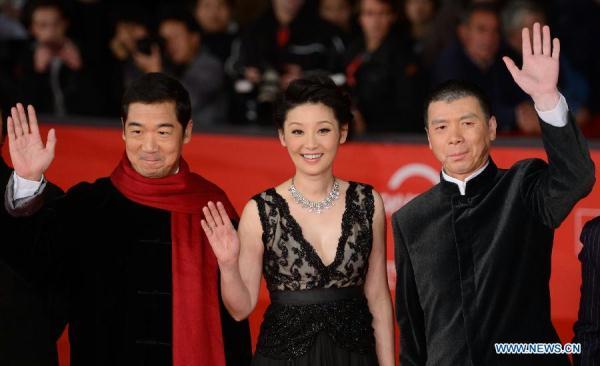 Chinese director Feng Xiaogang, actress Xu Fan and actor Zhang Guoli (R-L) pose on the red carpet of the 7th Rome Film Festival in Rome, Italy, Nov. 9, 2012. The 7th Rome Film Festival opened late Friday. Feng's "Back to 1942" was announced the first of two surprise films that will screen in competition at the 7th Rome Film Festival. (Xinhua/Wang Qingqin)
Editor:Zhang Jingya |Source: CCTV.com