Watch Video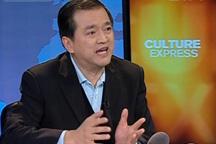 Play Video
Sylvie Guillem is a big name for dance fance. She is known as one of the greatest, if not the best, ballet dancer alive. The famous French ballerina recently debuted at the National Center for The Performing Arts with her daring contemporary routines. Full story >>
Let's have an expert look at all that. It's our pleasure to have famed dance critic Ou Jianping in our studio. He's here to talk about Sylvie Guillem and the National Center for the Performing Arts' dance festival. Ou consults for the NCPA's imported dance program.
1.Mr. Ou, what did you think about Sylvie Guillem's performance last night? She is one of the most acclaimed dancers in the world, is that right?
2. What have you thought of the NCPA's dance festival performances? It must be a real treat to have so many performances from all over the world.
3. Such a large scale dance festival is testament to the NCPA's growing global influence. What impact do you see the festival's dances having on cultural exchange between China and the world?
Editor:Zhang Rui |Source: CCTV.com