Watch Video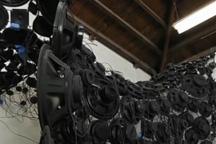 Play Video
It may not seem glamorous for an artist to work in a rubbish dump. But a prestigious artist-in-residence program in San Francisco gives artists scavenging rights on a dump plus a studio space to create new works.
The program is held by Recology, the company handling San Francisco's waste collection. Artists say the amount of waste generated by the city is mind-boggling. They've used items from the dump to create mixed media collages and installations.
The Artist in Residence program at Recology began 22 years ago as a way to encourage recycling. It has provided residencies to over 100 professional and student artists since 1990.
Some of the artwork addresses the theme of recycling and the environment directly, while other pieces approach it indirectly by giving new life to discarded objects. Competition to enter the program is tough - about 100 people apply to the program each year but only six are accepted.
The program now offers four-month residencies three times a year and is open to artists working in a wide variety of media.
Editor:Zhang Rui |Source: CCTV.com