Watch Video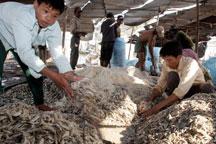 Play Video
Local Fisheries department in Tonle Sap, Cambodia, protect their fish stocks.
Heading down the meandering waterways of Cambodia, fishing villages line the banks.These are communities that depend upon what they can catch. Until recently, times were hard: poor management, pollution and competition with big commercial fishermen had seriously depleted fish stocks.
But that has all changed. From this year, all commercial fishing has been banned.
Prin Savin, the Chief of the local Fisheries department is in charge of this new project. From the beginning of this year only families from the area are allowed to fish.
They can sell their catch at the market…but they can't operate on a large scale and the effect on fish stocks has been dramatic.
And as Mr Savin shows me afterwards, some of the rare and endangered species here are starting to flourish once again.
The fishing communities all feed off the Tonle Sap, the largest freshwater lake in South East Asia.
It's an area of enormous biodiversity and the breeding ground for many of the fish that populate the Mekong River.
Today Mr Savin wants to see firsthand whether the locals are getting a better catch.
This man had several local carp in the basket and more below deck and he says these days his catches are much better.
Another boat closeby.
The average catch used to be less than 5 kilo's a day. Today he says he's disappointed he didn't get more than twenty.
And there is a new catch coming in.
Ecotourism has attracted hundreds of thousands of tourists to the area every year.
It has all combined to bring hope and opportunity to some of Cambodia's poorest communities
Related stories
Editor:Zhang Rui |Source: CCTV.com